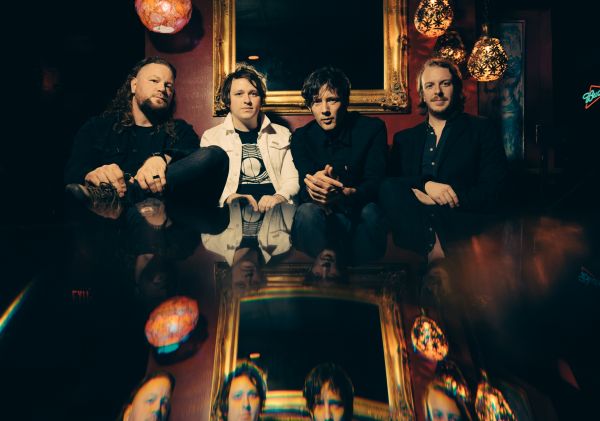 27 March 2019
Ester Drang – Photo Credit: Ryan Magnani
Atmospheric post-rockers Ester Drang built a cult following through the early 2000s, winning listeners with a string of acclaimed albums, including 2001's Goldenwest (Burnt Toast Vinyl) and 2003's Infinite Keys (Jade Tree).
Ester Drang has also captivated audiences while crossing the country with bands like The American Analog Set, The Getup Kids, Pedro the Lion, and Starflyer 59. Then in 2006, shortly after releasing their third full length album, Rocinate on Jade Tree, the band put things on hold, seemingly for good.
But as fortune would have it, a decade into their hiatus Ian McCulloch of Echo and the Bunnymen happened to hear one of their songs soundtracking a documentary about drug addiction. McCulloch was so taken by the track that he reached out to the band and invited them on the road, and in the summer of 2017 the band reunited to join the Bunnymen on a national tour.
The tour breathed a new life into Ester Drag, and frontman Bryce Chambers used the creative energy to begin writing the songs that would make up their stellar comeback EP, The Appearances, which just released on Clerestory AV
For The Appearances, original members Chambers (singer and multi-instrumentalist) and Kyle Winner (bass) returned, with Ester Drang's signature lush and atmospheric sound bolstered by Tommy McKenzie (Stardeath and White Dwarfs, NET) on guitar and Hank Hanewinkel III (Nuns, Native Lights) on drums.
The Appearances is a half hour of the expansive, effects-laden songcraft on which Ester Drang built its dedicated following, but it also demonstrates marked growth — developed over time spent in interim bands, on the road with Echo and the Bunnymen, and through a long recording process both at Chambers' home studio and in sessions across the country — for a band in its second era.
The track list includes heavy-hitting tour single "The Union," as well as a cover of influential shoegaze band Starflyer 59's "2nd Space Song." Another EP highlight, "It's Too Late", showcases what the band does best, opening with squeals of feedback then layering on a pulsing bassline and intricate open-D riffs with ethereal results.
For this single, the band turned to friends Blake Studdard and Seth McCarroll, two of the creative minds behind boutique pedal company Old Blood Noise Endeavors, to make a music video as radical as the song.
The resulting video for "It's Too Late", which The Big Takeover is pleased to host the premiere of, follows a vague and mysterious story arc spliced between layered shots of a pink and blue-lit Chambers. Studdard and McCarroll employed old-school special effects techniques, using video projectors to create visual feedback loops over Chambers' face while he sings, "It's too late to start again. It's too late to make amends." The effect is eerie and somewhat unsettling. What exactly needs to be made amends for? That's left to the viewer's imagination.
Now that they're going again, Ester Drang have no plans of stopping anytime soon. The band will be following up The Appearances with a split 7" with Austin band Lord Buffalo to be released next month. This will be followed by a joint tour of the Midwest in early summer.
The Appearances is available now on CD and limited-edition vinyl via Clerestory AV
Ester Drang Website
Clerestory AV Website
Video by: Atria Creative + Old Blood Noise Endeavors