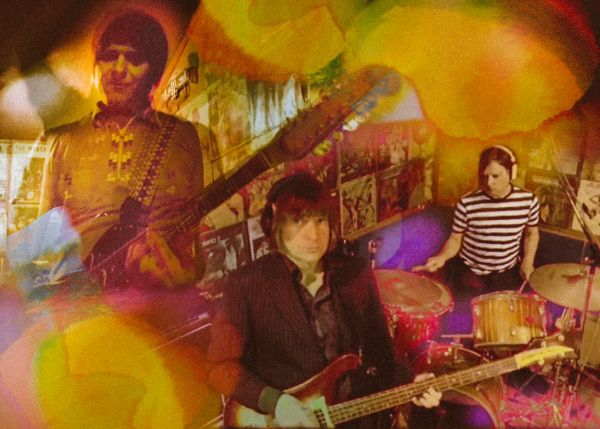 27 November 2019
The Gentle Cycle – Photo Credit: Courtney Chavanell
Now based in Los Angeles, Mod/psych-pop band The Gentle Cycle are back with "Ivy," a tuneful new single that captures the moment in time when whiz-bang Mod freakbeat melded with the budding birth of psychedelia (think late '66). While band, founded and led by Derek See, may wear their influences on their sleeve, the music has a modern, timeless edge that appeals to an audience beyond '60s diehards.
'Ivy' is set for release on 7" 45 RPM vinyl courtesy of Austin, TX label 13 O'Clock Records on November 29th, with a cover of The 13th Floor Elevator's lost gem "It's You" on the flip side.
The Gentle Cycle started 7 years ago, when See decided to put out a solo 7" single (using the name The Gentle Cycle) after many years of being a sideman in various bands. He ended up releasing two singles, and then in 2015, he decided to make Gentle Cycle an actual band.
After a move to LA, See recruited veteran musicians Scott Bassman and Roger Brogan (Spectrum, Dean Wareham) into the new iterations of the band, and they began recording together this past spring. They recorded to tape (a Tascam 388 machine), and used as much gear from the '60s as possible to craft their music.
See is also a current member of Rain Parade and The Chocolate Watchband. He reveals, "[They] were two of my absolute favorite bands and biggest influences when I was growing up. Working with them feels like taking a master class in psychedelia and songwriting! I've also played with Country Joe McDonald, Joel Gion, and a whole bunch of others."
The Big Takeover is psyched to host the premiere of the vintage-tinged video for "Ivy," which showcases the band members playing the song in what looks to be a recording studio room with its walls lined by various vinyl LPs.
They performance is overlaid with various sepia-steeped and blanched-out moving images, of wild reeds, shrubs, and trees, and spots of luminescence. The song itself is an up-tempo, yet mellow jangle-pop flow of sweetly harmonious, longing vocals, catchy melodics, and kinetic drumming.
See delves into the details of the track, commenting, ""Ivy" is a song I wrote and recorded as a solo acoustic track many years ago, and I've had the burning desire to re-record it for many years. When 13 O'Clock Records in Austin approached us to cut a single for them, it finally clicked for me. Using the classic 45 RPM single format, we could redo it as a tribute to some of my favorite mid-60s British bands; namely The Who, Small Faces, The Creation, and The Pretty Things. For the video, I wanted to represent the ideas presented in the song in a fluid, trippy manner – namely, the way that we all strive for some kind of escape from the mundane aspects of life to find inner peace."