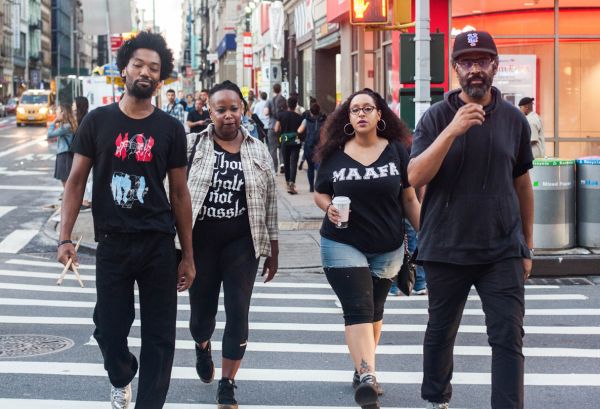 29 October 2019
The 1865 – Photo Credit: Ed Marshall
Always a pleasure to introduce folks to innovative music but today cuts new ground with the U.S. premiere of the new video from NYC-based avant alt-punk collective The 1865. 'John Brown's Gat' can be found on their debut album Don't Tread On We!, released earlier this year via Mass Appeal Records.
This follows up the earlier released singles 'Buckshot' and 'Get Out'. Directed by Hectah, the new video combines illustrations created by Honeychild Coleman, visuals and text from old newspapers, and stylized imagery of the band members themselves.
This is got to be one of the most original sounding bands with a debut release in 2019 and that says a lot, considering how many releases have come out this year. There seems to be no slowdown in musical output and the year's not even over yet. While originating from The Big Apple, this is certainly a band to watch regardless of where you're located. Their sound is infectious in a very good way, of course, and their very specific agenda can be widely applied to open minds everywhere.
So many different groups come to mind yet none of them are quite so similar to this group as perhaps Death, Rage Against The Machine, Algiers or Husker Du. At the same time, there also some elements here that can be found similar to The Breeders and Bad Brains. More like a blend of Algiers and surf-music with clever Throwing Muses-inspired change-ups and Kelly Deal on vocals.
The 1865 was formed in 2017 by musician/filmmaker Sacha Jenkins (The White Mandingos, The Wilding Incident), who also directed the new Wu-Tang docu-series acquired by Showtime. The band came to life when joined by Carolyn "Honeychild" Coleman (Apollo Heights / The Veldt, Badawi) on lead vocals/baritone guitar and famed session musician pro-skateboarder Chuck Treece on drums. The band later added Afro-Brazilian bassist Flora Lucini (Maafa) and drummer Jason "Biz" Lucas (Dragonz of Zynth) to the mix.
The 1865's music is influenced by Bad Brains, Jimi Hendrix, Muddy Waters, Minor Threat, but also such artists as Neil Young, Betty Davis and X-Ray Spex. Punk, metal and new wave dipped in blues barbecue sauce. Open your mouth and dive right in – it tastes great. Machine gun and dissonant guitars, bass deeper than the Bayou, and revolutionary drums lifted straight out of tools in the field.
'John Brown's Gat' and the entire album, was recorded at Applehead Recording Studio in Woodstock, New York by Chris Bittner and Michael Birnbaum, who have worked with everyone from Bad Brains to Living Colour to Coheed and Cambria.
"John Brown was a white man who believed that African Americans should not be enslaved; he was willing to bust his gun (aka his "Gat") to contribute to the emancipation/liberation effort. The kids today would simply describe him as an "ally". He was willing to put his life on the line and eventually he lost his life on behalf of his Nubian brothers and sisters. We crafted a tune to honor the man. RIP my brother. You were on the right side of history. Donald Trump is a chump," says Sacha Jenkins.
On Don't Tread On We!, the band takes inspiration from 1865 America, post the Emancipation. Each song from the LP features different explorations of life in 1865 America, a land living in the shadows of the fallen Confederacy. That year, the Civil War came to an end, thus igniting what was known as America's Reconstruction era. And while newly freed slaves were slowly adapting to a post-Confederate society, the battle had truly just begun.
There are still so many parallels with modern American history, The 1865 chose their name as to signify that the more things change, the more they stay the same. This debut album punctuates that sentiment, with real stories told through the prism of hardcore punk. The result is a band, whose lyrics are just as powerful as their bone-shaking sound.
In this current climate, message music is absolutely vital. Enter The 1865 with their mission to inform of the past while simultaneously highlighting some painful realities about the present. Each song is a carefully constructed history lesson, with a supercharged soundscape
"I think Carolyn did a really great job of telling a really broad range of perspectives. All of these songs can be looked at as stories. But if you're not really plugged into what the lyrics are about or what the scene is all about, at the end of the day the music still rocks," says Sacha Jenkins.
Don't Tread On We! is out now, available digitally virtually everywhere HERE and also directly from the band's own Bandcamp. It is also available on black and red vinyl in a vintage style jacket with a lyric/coloring book.
CREDITS
Sacha Jenkins SHR – Lead Guitar, Backing Vocals
Carolyn "Honeychild" Coleman – Baritone Guitar, Lead Vocals
Chuck Treece – Drums, Bass, Backing Vocals and Rhythm Guitar
All songs written by Jenkins / Treece / Coleman
Recorded at Applehead Recording in Woodstock, New York
Recorded and mixed by Chris Bittner, Michael Birnbaum
Mastered by Michael Fossenkemper
Video directed by Hectah, including illustrations by Honeychild Coleman
In The Video
Flora Lucini (MAAFA) – Bass
Sacha Jenkins SHR – Lead Guitar, Backing Vocals
Carolyn "Honeychild" Coleman – Baritone Guitar, Lead Vocals
Jason "Biz" Lucas (Dragonz of Zynth) – Drums
LIVE DATES
Jan. 09, 2020 New York – Max Fish (Residency)
Jan. 18, 2010 New York – Brooklyn Academy of Music BAM Cafe (MLK Celebration)
Also check out the videos for their first two singles. Which are equally as fascinating:
THE 1865
Facebook
Bandcamp
Twitter
Instagram
SoundCloud
Spotify