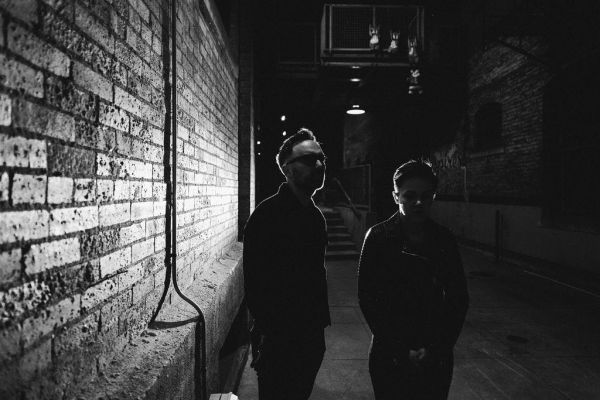 9 February 2021
All Hallowed – Photo Credit: Zac Fisher
Dayton, Ohio's All Hallowed are a bass/voice/drums dance-punk powerhouse comprised of Ricky and Lacey Terrell that emerges from a backdrop of industrial decline and urban decay during a staggeringly bizarre and hopelessly dangerous period in history.
All Hallowed debuted their artsy, dancefloor siren song debut single, "Kill," on January 31st.
Clocking in at under two and a half minutes, "Kill" carries the banner of their less-is-more mantra, which might seem overly efficient. Make no mistake though; All Hallowed deliver groovy, fuzz-damaged riffs that land with a lurid, melodramatic force. But that is tempered with Lacey's airily unperturbed and sweetly dispassionate vocals that float lightly over the fray.
All Hallowed is a band that is reverent in their influences, and in "Kill" listeners are sure to hear nuanced nods to everyone from Death From Above 1979, Yeah Yeah Yeahs, and The Faint, to The Kills and Blondie.
"Ricky has copious amounts of lyrics that he's scribbled down over the years. I cherry-picked some of my favorites and created a melody to match the bass line he's been noodling," Lacey says of "Kill." "Although, I feared there would be a lack of continuity, when paired correctly, they emerged as a powerful, albeit short, dance anthem."
When asked about the concept behind "Kill," Ricky offers a more enigmatic take. "The theme behind 'Kill' isn't terribly deliberate — I prefer to let the listener create their own meaning and conviction from what we've created."
The duo recruited Aaron Gillespie (of Underoath, The Almost) who recorded the drums at his stand-alone studio in Utah. "Kill" was produced by Denny Cottle and engineered, mixed, and mastered by Micah Carli (formerly of Hawthorne Heights) at his Popside studio in Troy, Ohio.
Big Takeover is pleased to host the premiere of the atmospheric and noir music video for "Kill."
The lyrics of "Kill" are call for forgiveness and kindness in a dark time of overt intolerance and violence. It's actually a hopeful number, which can be seen from the scrolling lyrics content of the video. The positive words, about "repair[ing] our damaged lives," is uplifting even amid the slammed and inexorable beat and spare post-punk sound.
Ricky and Lacey are shown together as black silhouettes standing in a desolate industrial building shot in stark black, white, and maudlin gray. At times a blinding spotlight shines on them, making everything else pitch black save themselves.
"Kill" is the first single from a larger, yet-to-be announced release by All Hallowed on Friend Club Records.