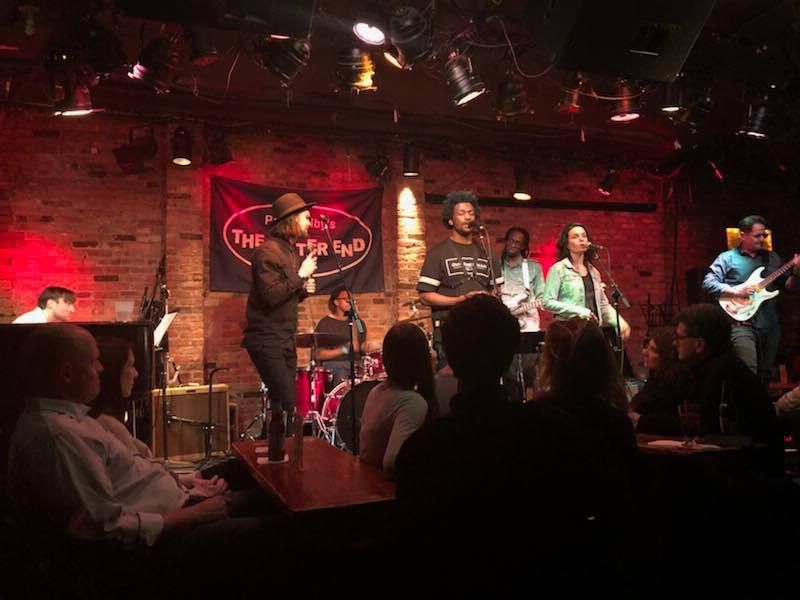 20 December 2018
Gideon King & City Blog, with Gideon King playing guitar far right – Photo Credit: GKCB
New York-based jazz-rock collective Gideon King & City Blog, or GKCB for short, have been making waves nationally in their hybrid-genre niche, In 2015, GKCB released their debut full-length titled City Blog. The album was met with wide critical acclaim and established GKCB as a rising force on the NY jazz scene.
Gideon King himself has worked with John Scofield and members of Steely Dan and many other musical giants over the years, propelling GKCB into the spotlight with the release of their second LP Upscale Madhouse this past November.
Upscale Madhouse is even more refined, abstract, and compelling than in the first release. GKCB have also been performing live, delivering a fascinating mix of rock,street jazz, fusion, pop, and funk. The first few shows have been packed-house affairs and extremely well-received.
The Big Takeover is highly pleased to host the premiere of "Lady of a Thousand Sorries", a gently reflective cut and new single that's not from Upscale Madhouse, in its live form in the studio and featuring Sonny Step on vocals. The track flows with a soulful, thoughtful groove, rife with mellifluous guitar lines, brushed drums, and Step's heartfelt and engaging vocals.
The video was directed and edited by Creswick Collective and is shot in rich black and white tones. It shows how the collective operates, with each member contributing their important musical thread to create a harmonious and impressive sonic tapestry.
King comments, ""Lady Of A Thousand Sorries" is a tune that immediately resonated with the band members and people who heard it for the first time. I never know what people are gonna like or why. Music is a frightening subjectivity monster and in this case the monster was pleased, so we decided to shoot the video. Such good musicians on this track and in this video! [Credits are listed at the end of the video.] Proud to work with them. The tune is about the mystery of relationships, the inevitably of unequal partnership, and parting ways."
Website
Facebook
Twitter
Instagram
YouTube
Spotify
comments powered by