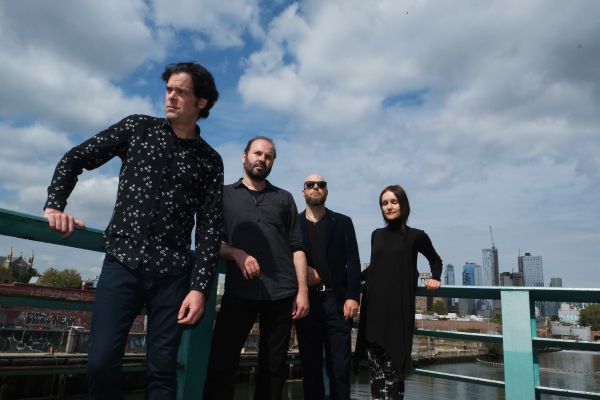 14 July 2020
Woodhead – Photo Credit: Sonia Goydenko
NYC-based Woodhead, the eponymous band led by Vern Woodhead, are back with the debut video for "Lection" from the upcoming album release ATADOS, the follow-up to El Inmortal.
While Vern Woodhead is the songwriter and lyricist, he credits the band for their adept interpretation of his oft-jarring, intricate rhythms and unusual, hooky cadences. From diverse backgrounds, the ensemble's intensely creative line-up includes Yana Davydova on guitar (who also leads her own band Echo Moth and performs with Alex Weiss's Glad Irys Quintet), Dmitry Ishenko on bass (having played with Steve Lacy, John Tchicai, Paul Banks, and others), Rob Mitzner on drums (who plays with MC Frontalot and runs C-Room Studio), and Eugene Musica on keyboards (Musica leads his own group The Jews of Malta).
Having worked with this trusted ensemble for several years, Vern Woodhead says, "It's nice to be able to write almost anything I want, and hear it played back with a depth of tone, power, and vigor; but also a luxury to leave sections open to interpretation and know that I will enjoy the enhancement."
Vern also plays bass in Martin Bisi's band as well as in Skulk, the Hulking. On "Lection" he plays both trumpet and saxophone, as well as guitar. Dan Blake (of Esperanza Spalding's band) will be featured on saxophone on ATADOS.
Woodhead succeeds where many bands that attempt to push the envelope fail; while their songs contain elements of no wave, jazz and, dare I say, post-punk, undeniable hooks with a fierce rock edge are elevated by the unique guitar styles of Davydova and Woodhead.
They are a must-see live; not only accomplished performers, their tunes will happily become stuck in your head. Equally cerebral and physical, the quality of songwriting is self-evident and "Lection" showcases well Woodhead's innovative, infectious style in both its biting attack and attention to detail.
Webster's unabridged defines "Lection" as, "1. a reading, as found in a particular text; 2. a part of the Scriptures read in a church."
Adam Wirtz's striking video features Vern Woodhead prowling and preaching along Brooklyn's Gowanus canal like a mad reverend with an urgent message. The video's primary message is indeed urgent: Gowanus now faces the ominous threat of massive rezoning proposal (sneakily reintroduced during a deadly pandemic) which will turn a robust community of independent businesses, artists, musicians, rehearsal spaces, and recording studios into a heartless, overdeveloped wasteland like Long Island City. The contentious proposal for Gowanus's 'renaissance' is being preached like gospel.
"Lection"'s lyrics reference Paul Bowles' short story Call at Corazón, a cautionary tale about seemingly poor choices. We question why the miserable protagonist couple are together at all. Specifically the line, "stuck in the mud against the parapet / water and sludge rise above the deck" refers to their ill-fated honeymoon boat.
The lyric made Vern Woodhead think of the mud and the sludge of the Gowanus canal while "Lection" was being mixed at Bisi's legendary BC Studios (where he produced Cop Shoot Cop, Live Skull, Dresden Dolls, and Sonic Youth, among many others). Making the canal an important part of the video seemed only logical.
"Lection" ultimately begs the larger question about how much control we really have over our decisions. A red masked, rector-figure sermonizes to his gratefully hypnotized congregation; during their manic dance of devotion he delivers their medication and tears pages from his book of scripture (as the frustrated pet monkey in Call at Corazón does).
Vern Woodhead sings, "buy your monkey, vote your conscience" – we're constantly sold monkeys dressed in savior's robes. Our collective conscience is hobbled, constrained by the pathetic, limited choices we are given: the game is rigged, the agenda is set. Our pool of potential 'leaders' are foist upon as the illusion of choice ('manufactured consent', per George Monbiot.).
We are preached at, drugged and dragged down paths that betray our instincts and better interests constantly, like a boat stuck in mud. The awkward, frenzied dancing reflects our powerlessness in both the political and the personal realms. Kafkaesque, perhaps, but that's politics… and all relationships are political, after all.
"Lection" was filmed in December 2019 before the virus hit, and although quarantine has delayed the album's release, Wirtz was luckily able to finish this visually arresting video. ATADOS will be released in October 2020.
- R.B. Korbet
Credits:
Vern Woodhead – Vocal, Guitar, Trumpet, Alto Saxophone
Yana Davydova – Guitar, Vocal
Eugene Muzica – Organ
Dmitry Ishenko – Bass
Rob Mitzner- Drums
Engineering – Martin Bisi
Production – Vern Woodhead and Martin Bisi
Video – Adam Wirtz
El Inmortal on Bandcamp