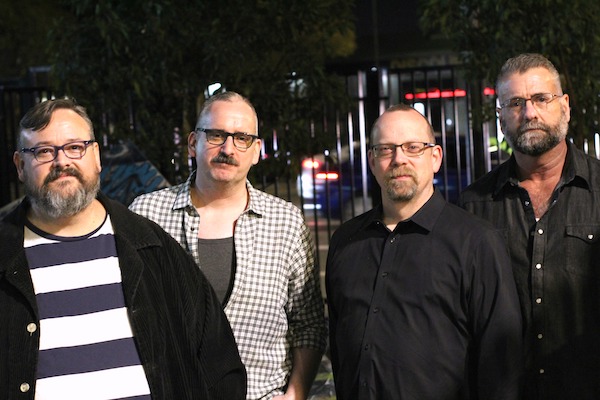 17 June 2019
The Bobbleheads – Photo courtesy of The Bobbleheads
San Francisco-based indie pop-rock band The Bobbleheads released their latest album, Myths and Fables, this past March via PopPop Records.
Currently consisting of John Ashfield (guitar, vocals), Pat Ennis (bass), Rob Harford (guitar, vocals), and Rob Jacobs (drums), their sound is best described as upbeat, but sly, impacting pop with sticky melodies and bittersweet lyrics.
Myths and Fables was recorded between the spring of 2017 and summer of 2018 in San Francisco with production and mixing by San Fran music creative Doug Hilsinger, who had the same duties on the band's prior album, Make Yourself Happy.
Typical Bobbleheads' songs are driven by a custom-made-for-Ashfield 12-string Rickenbacker guitar and his songwriting talents. For Myths and Fables, however, the process became a skilled collaboration between all of the band members, from song co-writes to whole band compositions.
The Big Takeover is pleased to be hosting the performance video for "Listen You Know", a catchy track from the LP. In the video, which was directed by Fred Gebhardt, the band members get into it with gusto, enthusiastically kicking up a pop noir dust storm of Western plains reverb guitar, low bass line tug, shaken percussion, including snake-tail rattle, and kinetic drumwork. The vocals are direct, but tuneful, and packed with layered, harmonic power.
The band is shown playing on stage, bathed in a blue glow, incandescent light bulbs, and obscuring shadows. In the backdrop the wall is pasted with music posters, including ones for the Ramones, KISS, and the Cure.
The Bobbleheads continue to perform and record on a regular basis, searching for the perfect pop song and finding the good and interesting in their experiences.
Purchase/Stream Myths and Fables
Facebook
Instagram
Twitter
YouTube