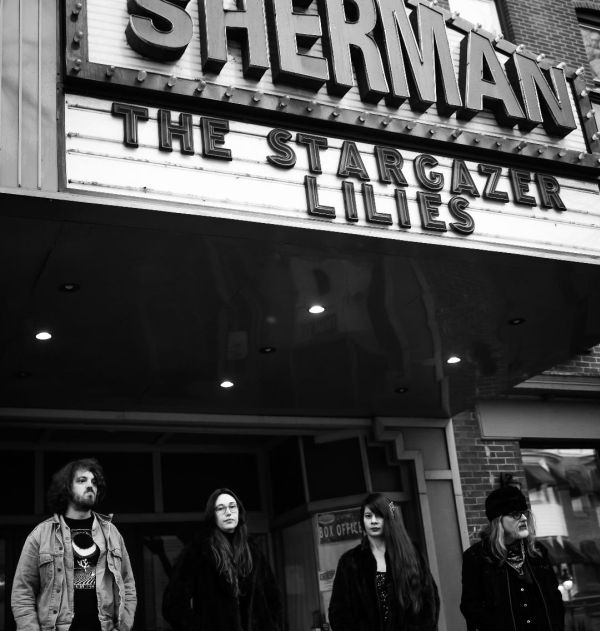 21 December 2020
The Stargazer Lilies – Photo credit: Renee Coutlee
Premier psychedelic-steeped shoegaze/ambient dreampop band The Stargazer Lilies may hail from Northeastern Pennsylvania, but their sound is from some other dimension; one that is both dreamy and warped and pulled from the mysterious ether.
The Stargazer Lilies, with Kim Field (lead vocals, bass) and John Cep (guitar) at the core (and who were previously in Soundpool), started out in the early 2010s as a more recognizable shoegaze and dreampop band, but over the course of a decade they've become more experimental, morphing their style to include a heavy dose of future-psychedelia and celestial ambient music.
The band's latest album, Occabot, which arrived in late 2019 via Rad Cult, is a wild exploratory trip that was influenced by bold producer TOBACCO of Black Moth Super Rainbow, who wanted to capture the immersive intensity of their live performances.
The seamless exchange of ideas between The Stargazer Lilies and the producer took the duo in a direction that exists well outside a typical space-time continuum. It's electronic music expressed with analog instruments one moment and modern rock mangled in a blender the next, with Field's vapor-trailed vocals finally brought to the foreground and a simple guitar/bass/drums template suddenly pushing every sonic boundary imaginable.
Field and Cep have more recently been joined by newer Stargazer Lilies members Cari Gee (drums) and Jake Stewart (guitar, bass). Gee came on board as a touring drummer in 2018, and for the past six months she's been collaborating in the writing and recording process with Field and Cep.
During the disastrous year that has been 2020, Field and Cep have continued working on their music, toughing out the pandemic and isolation, and performing a livestream of their material on November 1st at The Sherman Theater located in Stroudsburg, Pennsylvania.
A full live album, titled Live at Sherman Theater, is releasing today, December 21st, on digital platforms and via The Stargazer Lilies' Bandcamp.
Big Takeover is thrilled to host the video of the performance of "Lit Like the Sun," one of the brilliant rays of light from the virtual concert.
Field and Cep purposely picked The Winter Solstice as the date to premiere their clip because of the energy shift and new beginnings that surround this particular set of cosmic circumstances on Dec 21st. The date suits both the song where their mindset is at this point in time.
Field, Cep, and accompanying musicians put on a magnificent and mesmerizing show that's full of hope and heart, and of course an astral-bound dreaminess that the band is known for.
The performers are bathed in deep blue and ultraviolet light and backed with a projection of constantly streaming stars.
As the grand shoegaze guitars flow, and at times hang suspended in the atmosphere, Field gently draws out her vocals in an airy and wondrous murmur.
The dreamily slow swirl is tempered by the measured drum strikes and sporadic bash of ringing cymbals – and a fiery ending that's touched with the grinding wind of guitar grit and urgency.
Field relates, "Having the opportunity to play this beautiful 1930's theater during this historic time was like a strange dream, both beautiful and sad. I'll never forget how incredible it felt to be on that stage with the music so loud, the giant visuals and the gorgeous lighting."
"Once again surrounded by my people and a crew (at a social distance) that loves and misses what they live for so much. We were all so happy to be there doing what we do. It was in the 30's that weekend and the theater was unheated as it has been vacant for so many months. It made it extra eerie to play in such a cold, empty space."
"It was a magical weekend in a nightmare year. I've never been one to take for granted the amazing experience of playing shows but I appreciate what we lost so much more then ever."
"Lit Like the Sun"
Music written by John Cep and Cari Gee
Lyrics written by Kim Field and John Cep
"Any color can be bright
But it takes all to produce daylight
Can you gain the perspective of height
Without looking down on ones plight
To know what is truly real
You must know how to feel
High as a kite on the moon
And lit like the sun at high noon
High as a kite on the moon
And lit like the sun at high noon
Only the blackness of night
Lets flickering stars appear white
And up's only up next to down
And no place is up, the world's round
So go for what is truly real
And learn how to feel
High as a kite on the moon
And lit like the sun at high noon
High as a kite on the moon
And lit like the sun at high noon"
The Stargazer Lilies Bandcamp
The Stargazer Liles via Rad Cult Bandcamp
Website
Facebook
Twitter
Instagram