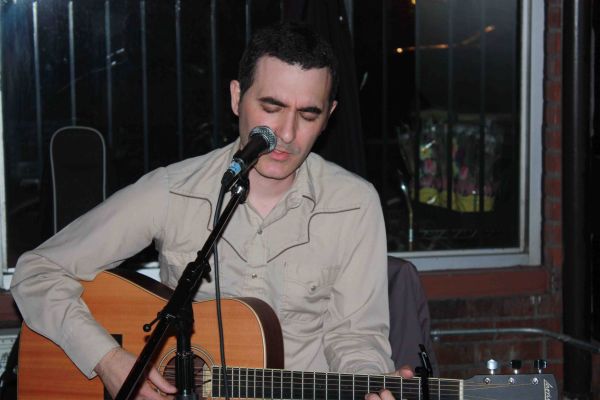 15 January 2019
Allister Thompson of Twilight Fields – Photo courtesy of Allister Thompson
Many people have paid tribute to Bruce Cockburn, who numbers among Canada's most renowned folk artists, along with the likes of Joni Mitchell and Neil Young. Today we present the premiere of a new version of 'Lovers in a Dangerous Time' recorded by Twilight Fields.
Hailing from North Bay, Ontario in Canada, this is the solo project of singer-songwriter Allister Thompson. This song can be found on his new album Songs from the Age of Ruin, following up the first single from that release, "Demagogue", which clearly expresses anti-populist sentiment.
It's great to hear this fresh take of this widely known and much beloved classic. When hearing the other songs from this album, it becomes clear that Twilight Fields is carrying on a tradition led by the likes of Billy Bragg, Richard Thompson, and New Model Army, among others.
If we look further outside this genre, we could also cite such artists as Midnight Oil and Rage Against the Machine. For this project, Thompson himself handles all the writing, playing, engineering, mixing, mastering, and design in his home studio. Through such work, he is establishing himself as an articulate and compassionate political artist. It's no wonder he's got plenty of material to work with given that our modern-day economic and social fabric is seemingly deteriorating more and more each day.
The Big Takeover is proud to premiere the environmentally relevant video of "Lovers in a Dangerous Time" from Thompson. His cover of Cockburn's classic track, which features evergreen lyrics, is gently assured vocally and flows with indie rock sonic grit.
The powerful video was made from a collection of real life footage that showcases the environmental devastation caused by us humans on the planet we call home.
Massive piles of trash in landfills, waste clogging up the oceans and washing up on beaches, pollution caused by burning fuel into the atmosphere, deforestation, and commercial over-fishing are all highlighted in the video – but so are the passionate protesters and the ones acting to put an end to the destruction of our world.
"I wanted to pay tribute to one of the greatest protest singers in music history, my fellow Canadian Bruce Cockburn," explains Allister Thompson. "This is his most famous song, but probably also his best, known for its timeless lyrics. However, those lyrics about keeping faith in dark days have never been more timely, 35 years after its original release. My version pays homage to the original arrangement while amping things up a little. The video shows environmental destruction but also the brave people who fight against it."
Apart from this track, the album also features a cover of Thin Lizzy's song 'Holy War'.
"While growing up, certain passionate, activist musicians were very influential to me. So much so that I'd say they changed and shaped the person I would eventually become. There has never been a more crucial time for musicians to step up and add their voices to the chorus of reason necessary to take us back from the brink of total destruction," says Thompson.
"The year 2019 finds the human species standing at a crossroads, with only two possible directions: survival or extinction. Artists should contribute their strong and clear voices to dialogues that could lead to our survival and renewal."
Songs from the Age of Ruin is a warning to the present and an apology to a possible future, while these compositions also pay homage to such artists as Billy Bragg, New Model Army, Killing Joke, Midnight Oil, and The Levellers, as well as other artists influencing his music like Leon Rosselson, Bob Dylan, Robert Wyatt, and Phil Ochs.
This is a highly political album with these ranging from the bombing of Hiroshima and absurdities of the atomic age, homelessness and economic inequalities, the evils of populism and political repression, toxicity of social media communication, animal rights, and climate change, laying bare the tragic consequences of catastrophic climate change.
Allister Thompson formerly was a member of Toronto glam-rock band Crash Kelly, together with Sean Kelly (guitarist for Nelly Furtado), opening for such notable artists as The Black Crowes and Alice Cooper. He later veered towards making traditional folk music, progressive rock, and ambient music, recording several ambient rock albums as Twilight Fields and numerous albums of ambient/Krautrock/psychedelia under the monikers The Gateless Gate and Khan Tengri.
The new album will be available via online stores and streaming platforms, including Spotify and iTunes, as well as Bandcamp. It will be released on February 1, 2019.
TRACK LIST
1 Prologue: The Ruined City
2 Bomber
3 Lazarus
4 Demagogue
5 Offended
6 Taken Away
7 The Animal's Song
8 Soldier Song
9 The Holy War
10 Maximum Darkness
11 Lovers in a Dangerous Time
12 Why Did We Do It? (The Last Ones)
13 Loss
14 Epilogue: Barren Planet
Also check out the initial single from this release, entitled 'Demagogue'.
Facebook
Twitter
Bandcamp
Instagram
YouTube
Spotify
iTunes