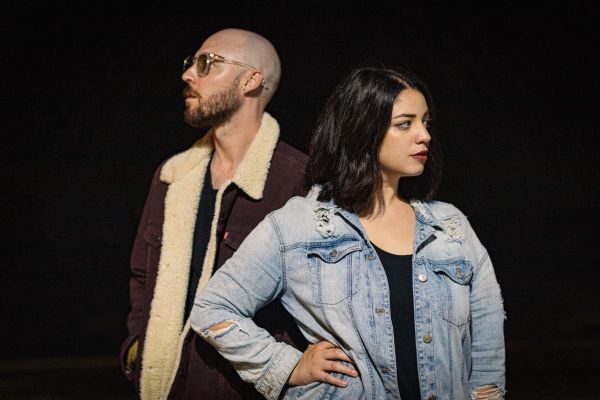 8 September 2021
Roses & Revolutions – Photo Credit: Jacalyn Meyvis
A long and restless night is a fitting metaphor for the last year, as the world experienced a collective warping of time and place. Doing what artists do best, indie-pop duo Roses & Revolutions transformed their dystopian feelings into a thing of beauty.
Their newest EP Midnight Monsters arrives on October 15th via Nettwerk Records.
The EP unfolds like a short film noir, which not only sets a palpable mood, but also cycles through a wave of emotions. Over the course of six songs, Roses & Revolutions craft a darker kind of singer-songwriter sound, though any one genre does not capture their full range.
Oscillating between impassioned bursts of rock and a softer acoustic vibe, Midnight Monsters imbues a real sense of timelessness and escape. With sweeping nostalgia, Roses & Revolutions invites us into their world, which feels both like a vast desert landscape, and an intimate space among friends.
Behind the Roses & Revolutions moniker is duo and longtime collaborators Alyssa Coco and Matt Merritt. Based in Rochester, NY, they first connected through music, playing in various bands together until it became apparent that there was a special creative alchemy between the two.
The pair really gained traction after their 2018 single "The Pines" went viral on Spotify. Two EPs, a headlining tour, and one pandemic later, Roses & Revolutions arrived at a contentious place. Immediately after releasing their second EP Under The Spell, the world went into lockdown, effectively deflating any momentum surrounding the new music.
But instead of wallowing for a year, Alyssa and Matt got to work, and what they found was a new way of making music, one without the pressure of immediate touring and promotion. Working mostly at night, the duo took their time to hone each song and the result is some of their most compelling and stirring work to date.
Big Takeover is pleased to host the premiere of the animated music video for "Lower Than Low," a deeply soulful and reflective track from the upcoming album.
The music video is equally poignant as it follows the main character through what seems like endless days of staying at home, alone, following a daily routine that doesn't allow for new experiences or connections.
This relevant and relatable meditation on isolation, depression, and the fear of reaching out and trying new things is beautifully rendered in visual form by animator and director Nikita Biswas.
Coco and Merritt reveal some details about the track, explaining, ""Lower than Low" is about thinking you're at your lowest and realizing there's actually a level below that. While the lyrics might be dark we wanted the melody and production to hint at some glimmers of hope."
Stream/download "Lower Than Low" HERE
Website
Facebook
Instagram
Twitter