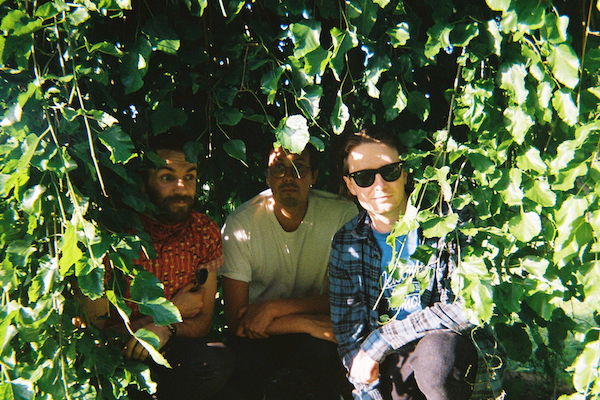 10 February 2022
No Monster Club – Photo Credit: Lucy Jorgensen
It's time to grab a paper clip, kerosene, a rubber eraser, some steel and flint — and a laptop … "MacGyver" is back, at least in spirit anyway, courtesy of a new video by Ireland's cult pop group No Monster Club.
For deadbeat effervescent, their eighth album (out tomorrow on Emotional Response Records), No Monster Club have finally swapped their bedroom for an actual studio — and with that, exchanged their Bedroom Pop stylings for a fully formed, mid-fi art-pop sound. No Monster Club's art-pop is deceivingly danceable, and Sir Bobby Jukebox is craftier than Angus … MacGyver, that is. Angus Young might give him a run for his money.
Mixed by Daniel Fox (he of noise rock heroes Gilla Band) and mastered by Richard Dowling (one of Stock Aitken Waterman's in-house engineers), No Monster Club's new LP comes across at times like Tony Mansfield cavorting with the Elephant 6 collective. They merge the infectious bubblegum-pop sound of Jeff Lynne's Idle Race with the sincere eccentricity of They Might Be Giants and the kitchen-sink eclecticism of a fun-size Polyphonic Spree.
Today, the Big Takeover is delighted to unveil the video for "MacGyver," the third single from their new record. Despite its title, the unapologetically twee song is not about any TV action man, but instead "a heartfelt love song to the singer's former Brisbane neighbour – a Russian Blue kitten named after Patty and Selma Bouvier's favourite war hero," according to the band.
"It's by far the least lyrically obtuse song that I've ever written, so I can't delve into any deep thesis," according to frontman Sir Bobby Jukebox. "It's heart-on-sleeve stuff about somebody whose presence genuinely meant a lot to me and my girlfriend. I was 10,000 miles from home and didn't know too many people, but then this little charmer started visiting us everyday … and I really never would've guessed how much joy one nervous little cat could bring."
(Fancy) feast your eyes on the video, premiering exclusively with the Big Takeover today:
The lilting steel pan throughout the song ties into the aforementioned theme too. "There's a busker in Brisbane whose pan music is permanently floating through the streets of the city, so hearing tropical pans takes me right back to that specific time and place. That's not him on the record, though … that's Cherise Thorne from Barbados, captain of the UWI Steel Pan Orchestra," Sir Bobby Jukebox said.
The vaguely Lynchian video sees Jukebox alongside his bandmates Mark "Ginnels" Chester and Tim Falcon Prime performing in front of a slideshow presentation of the aforementioned feline friendship. "Shout out to Lucy for the footage, and to the Trachtenburg Family Slideshow Players, who probably inspired the idea!"
You heard it here first: the slideshow-pop revival is a go-go.
For more on No Monster Club, check out these links (don't worry, you'll be safe from werewolves and vampires):
Bandcamp
Twitter
Instagram
YouTube