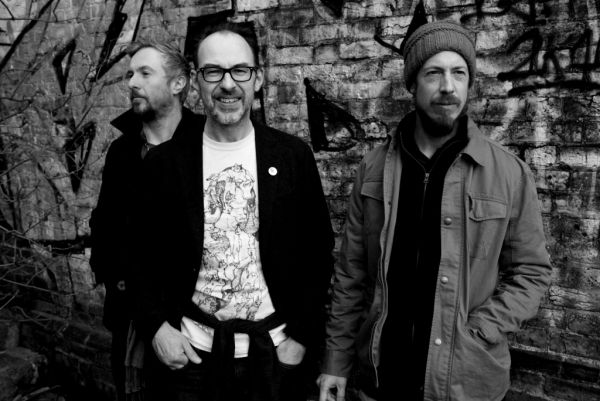 19 February 2019
Bromide – Photo Credit: Alastair Indge
London London London. London may not be burning, but it certainly is on fire lately with loads of great steaming tracks at full throttle. Noisy grunge-pop crafters Bromide are among the collection worth casting your attention towards. Their new single 'Magic Coins' is presented here. This is the A-side to their new two-track single, accompanied by 'Always Now'.
Upon hearing this track, you'll be pleasantly haunted by 'Magic Coins' in the same way you were when you first heard Sugar's "If I Can't Change Your Mind" or Tokyo Police Club's "Nature of the Experiment" or even anything from The Lemonheads' epic album It's a Shame About Ray. Oh yes – that kind of excitement.
This unexpected rhythm track, which is seemingly drum and bass-inspired, was written collectively by band members Simon Berridge (vocals, guitar), Ed Lush (drums), and Hugo Wilkinson (bass).
 While forward-looking (and more music from them is definitely something to look forward to), their music also triggers a very welcome and positive flashback to early '90s college rock at its peak, when bands like R.E.M., The Lemonheads, The Pixies, Throwing Muses, Pylon, and Pavement dominated underground radio playlists.
Their sound has been described as "Grant Hart fronting Sebadoh" and "Elvis Costello fronting Dinosaur Jr." Vive Le Rock noted that they mix "the best bits of The Lemonheads and Dinosaur Jr replete with melancholic melodies and J Mascis-ish guitar lines." We can add a few other names to this list if anybody really needs additional points of reference: Husker Du, Sugar, Kasabian, Kristin Hersh's 50FOOTWAVE, Kaiser Chiefs, and early output from Tokyo Bicycle Club.
"Magic Coins" is a good example of how being in a band can take things off in directions you'd never expect. I'd been trawling Youtube one night and on my travels come across Susan Boyle's gobsmacking debut performance on 'X Factor' and a thumping AC/DC gig from Oakland Coliseum, California in '79. Both had made me think about the nature of performance and invisible energy release and so I put this into a new song I was writing "I wanna stand in their shoes. Tell me what it is I have to do," says Simon Berridge.
"When we next got to practice, we hadn't played together for a while and I remember starting playing the riff and Ed literally running to get behind the drum kit. He started playing this frenetic almost drum and bass beat and the song exploded. It ended up totally not where I was expecting."
This single follows the album I Woke Up, released in the summer of 2018, and the I Remember album previous to that. In that time, they have won over news fans including Gideon Coe at BBC 6 Music, who has called their music "Fantastic" and says their latest single 'Two Song Slot' is "a mighty fine tune", playing these tracks numerous times over several months.
Legendary producer Brian O'Shaughnessy (Primal Scream, My Bloody Valentine) recorded, mixed, and produced these tracks at Bark Studios in Walthamstow, London. Seamlessly welding their pop onto their rock, together they achieved Bromide's sublime college-rock sound. The band also wrote some of the music in the studio while recording, including the confessional album opener 'Tale To Tell' while album closer 'I Woke Up' sees them begin to stretch their wings a bit as a Glenn Branca / Krautrock groove builds to an an epic conclusion complete with thunder, rain, autoharp, and anything else lying round the studio.
"We've recorded the most recent two Bromide albums with Brian because he knows how to make you focus on what you're trying to achieve, plus he knows how to make it sound great," says Simon Berridge.
The 'Magic Coins' single will be released digitally and plans also include a 7" on limited edition vinyl. The I Woke Up album is available across online stores and streaming platforms, as well as on limited edition vinyl and CD. It can be obtained from Scratchy Records via Cargo Records
CREDITS
Lyrics by Simon Berridge
'Magic Coins' written by Simon Berridge, Ed Lush, Hugo Wilkinson
'Always Now' written by Ed Lush
Simon Berridge – guitar, vocals
Ed Lush – drums
Hugo Wilkinson – bass
Recorded, mixed and produced by Brian O'Shaughnessy at Bark Studios in Walthamstow, London
Mastered by Jerome Schmitt at AirLab
Cover artwork by Jobsworth
UPCOMING LIVE DATES
Saturday 23rd March – Scratchstock at The Birds Nest, Deptford
Saturday 13th April – Records Store Day alldayer at Sister Midnight Records, Deptford
Saurday 25th May – Scratchstock at The Birds Nest, Deptford
more dates TBA
Also check out 'Two Song Slot' from their latest album and I Remember another brilliant work from a few years back:
BROMIDE
Website
Facebook
Twitter
Spotify
iTunes
SCRATCHY RECORDS
Cargo Records
Website
Facebook
Twitter
Discogs
comments powered by