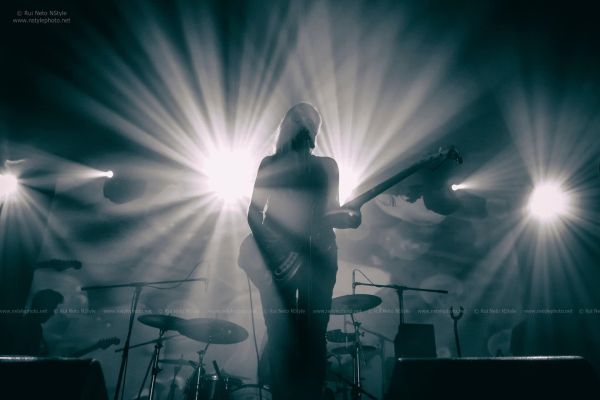 23 June 2020
United Ghosts – "Melodista" video still – Photo Credit: Rui Neto
In the summer of 2019 in what now seems like a galaxy far, far away, United Ghosts embarked upon a month-long tour of Europe and the UK. To share a few memories of this journey, the band is releasing a video for "Melodista,", a song from the album Saturn Days (Cleopatra Records) that wasn't a single, but quickly became a live show favorite.
Written long before the world was upended, the song seems weirdly apt now with a chorus that repeats the words "strange days" through a disembodied Vocoder voice and lines like:
Lost in a wave of the worlds gone by
Yesterday's just a tear in time
Melodies take my breath away
Eyelids dripping dreams
"We thought it would be a good time to release this one," says singer/guitarist Axel Ray "with so many of our summer dates and festival appearances cancelled, hopefully this is a nice virtual trip for all of us while no-one is going anywhere."
Big Takeover is pleased to host the premiere of the dreamy clip that was put together by singer/bassist Sha Sabi. In the video we catch glimpses of the group on the road (mostly culled from candid iPhone footage), playing to devoted fans from Paris to Barcelona to London, in venues ranging from sweaty underground clubs to glorious outdoor stages.
The band relates, "An absolute highlight came in the shape of the farthest journey of the tour to Porto/Portugal. As one reviewer would have it: " For those who were at the sold-out Hard Club in the showroom of the old Ferreira Borges Market it was evident that the audience surrendered to the band's melodic proposal in which dream-pop sounds emerge with a spark of pure psychedelicism"."
United Ghosts' touring had them traveling through 7 countries and down over 10.000 miles of road; something that can't be done at the current on-hold time in our existence. Sabi and Ray are currently working on new music during lockdown and miss touring very much… Ah, but what wonderful memories are captured in the video clip:
Website
Facebook
Twitter
Instagram
Bandcamp