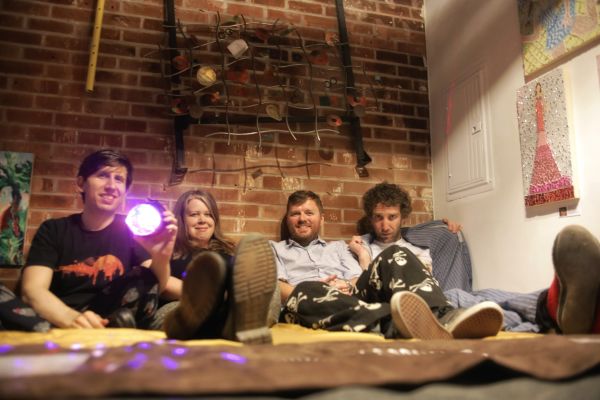 26 December 2018
Slum Summer – Photo courtesy of Slum Summer
Slum Summer is a San Diego-based indie rock/pop band that formed in 2016 by two British and two American musicians. A special relationship; a special new band.
Hugh J Noble (guitar, vocals) grew up in the village of Wymeswold in England where he played drums in an early incarnation of The Wave Pictures (Moshi Moshi Records), before moving on to writing and recording his own songs, self-releasing several records, and touring in the UK and USA under various names.
Upon moving to San Diego, he decided to form Slum Summer, enlisting DJ Anderson on drums, Jen Edwards on guitar, and Scotland's own Grant Stewart on bass, with all occasionally joining in on backing vocals.
The band's self-recorded debut album, ABABO, comes out on January 18th via Jigsaw Records. They recorded the LP over a weekend at San Diego's Ursa Polaris studio, with some extra recording done at different members' homes over the following weeks.
ABABO is a fair representation of Slum Summer's musical interests, with the band utilizing different approaches to underpin Noble's abstruse story-telling lyrics, thick with obscure references. Across the record you can hear them drawing from the same headwaters that fed the alternate-reality pop hits of Alien Lanes-era Guided By Voices, the slack romanticism of Pavement, the headlong rush of Boyracer, the noisy melodicism of The Clean and their Dunedin cohort, and the brooding folk- and classic-rock inflected works of Jason Molina.
The Big Takeover is pleased to host the premiere the video for "Merritt Parkway", one of the songs off the album. The band goes for heavy and sludgy rock riffs on this Black Sabbath-like number contrasted by Noble's lighter, drawn out main vocal line. It's an unusual and ear-catching contrast (think a morose Damon Albarn fronting a heavy metal band). There's also a serious streak of psych-rock mixed in with the metal, adding to the peculiarly pleasing effect.
The video trips out on the psychedelic tip as well, featuring clips from an eerie, but seductive vintage sci-fi film that are overlaid by vivid and kaleidoscopic color and design saturation. Prepare to have your ears – and mind – go into the unknown…
Noble digs into some rad details behind the song's creation, explaining, "Now I think I can reveal, without blowing anyone's mind, that this song was written under the influence of the first three Black Sabbath albums. One of my incredible song-writing tricks (take note all you hungry young bands with wild dreams of being the next Slum Summer) is to try to write a song that sounds like another band! Amazing, I know. This strategy will only work for you though, if you are as bad at it as I am, because this obviously came out mostly just sounding like another Slum Summer song."
"We are eternally grateful to our Jigsaw Records label boss, Chris MacFarlane, for agreeing to release our record in spite of his professed antipathy towards Sabbath. We are eternally suspicious of him for the same reason. A brooding and intentionally ambiguous tale, inspired by a short story I read in one of those "Alfred Hitchcock presents…" paperback anthologies. If you ever track down the story, you'll learn a little more about just what is going on inside that Connecticut home, though your imagination will probably do the job just as well and will save you from getting your fingers grubby rummaging around in charity shops."
comments powered by