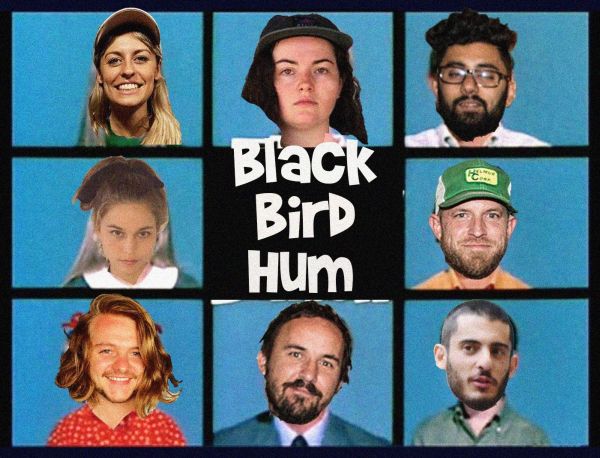 9 December 2020
Black Bird Hum – Photo courtesy of Black Bird Hum
Sydney, Australia-based roots reggae and dub act Black Bird Hum have expanded their global presence by partnering with the music discovery platform Color Red this year. In September, they released a digital 45 containing their brand new single "My Side," as well as a dub by engineer and producer Ryan Gambrell.
Today, Big Takeover is pleased to host the exclusive premiere for the copacetic music video for the engagingly laid-back "My Side."
"My Side" was developed over months of being road-tested, blossoming out of an infectious horn line composed by trombonist Greg Chicott. The track marks the introduction of vocalist Little Green with her reflective, yet resonant vocals that speak to a "love gone wrong."
Little Green's hazy dreampop-vibed delivery adds an airy touch to the cool flute notes, subdued horn blasts, groovin' bass line, and simmering drum-work.
The music video features footage compiled by each member during quarantine and edited together in a band-produced music video. The intergalactic and oceanic settings are a much-needed respite that provides the perfect escapism for the bizarre year that 2020 been—it serves as a catapult for voyages and better times ahead.
"We used our lockdown time to explore the wonders of modern video-making technology, and found a way to capture us all in our own bedrooms then paste us all together in the same space on film," says drummer and assistant videographer Jeff Reiss.
While US listeners might be new to the band, the group has been swiftly making headway on the Australian circuit sharing the stage with the likes of Arrested Development, The Original Wailers, J Boog, Collie Buds, and more.
Their festival accolades include a 2019 spot on the prestigious Goa Sunsplash in India as well as appearances at Caloundra Music Festival, Nimbin Mardi Grass and Nimbin Roots Festivals, back‐to‐back Peats Ridge Festivals, and FBi Radio's Reggae Carnival.
Collaborating with the Eddie Roberts (The New Mastersounds) label and platform puts the band among the ranks of associated acts ATOMGA (the Denver-based afrobeat collective drummer Jeff Reiss' was a part of before his relocation to Sydney); SunTone, dub engineer Ryan Gambrell's project that's slated to release an EP this Friday; and additional reggae acts Death by Dub (ft. Members of John Brown's Body, Ghost Light, Odesza, and The Motet), and Brooklyn-based SunDub.
While 2020 has put most global travel plans to a halt, the band is hoping that once the pandemic cools down, they can reinvigorate future US touring efforts. In the meantime, be sure to follow the band on social media to stay tuned on live stream performances and additional content until they can hit the road again.