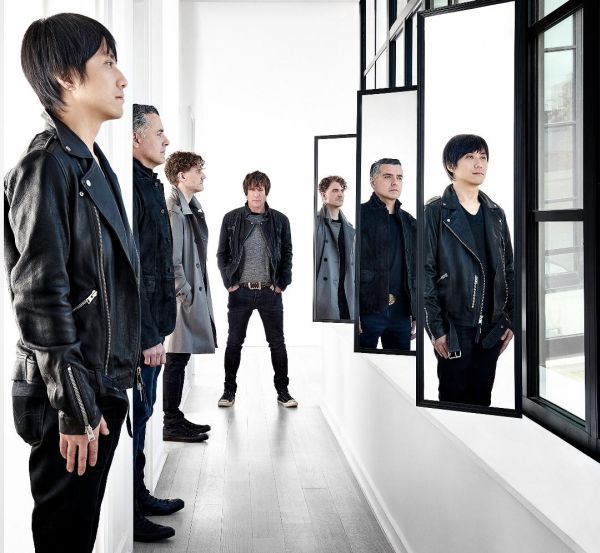 23 March 2021
Camera2 – Photo Credit: Jacob Getz
New York City-based indie rock band Camera2 is fronted by multi-instrumentalist and songwriter Andy Chase, the founder of Ivy, one of the most innovative and beloved pop groups to emerge from NYC in the past thirty years.
Alongside his close friend and frequent collaborator Adam Schlesinger, Chase formed the critically acclaimed band in the mid-1990s. Chase and Schlesinger toured the world together, opened Stratosphere Sound recording studio together, and supported each other's projects for years.
Like so many others, Chase was blindsided by Schlesinger's sudden death in the early days of the pandemic.
"Natalie" is the first track released by Camera2 since Schlesinger's passing, and it's fair to say that the shadow of loss looms over the entire song. "Natalie" sounds like an incantation – a ward against the darkness – yet as haunted as it is, the song radiates resiliency too.
Big Takeover is deeply pleased to host the foreboding and cinematic storytelling music video for "Natalie," which was directed by Josh Stoddard.
In the video clip we follow an innocent-looking young boy who is riding his bicycle on a deserted country road. He may appear angelic as he wanders through a verdant forest, but there's something insidiously sinister about it all nevertheless.
When the boy ditches the bike by the side of the road and dashes into the thick forest, the moment is so sudden and deliberate that it's downright uncanny how natural it seems. The angry sky, the shadowed forest, the sense of absolute purpose with which the boy moves – it all portends serious and supernatural trouble looming on the horizon… And that's just the opening scene of "Natalie."
It turns out there's someone, or something lurking in the woods, and the boy is an integral part to the chain of events that unfolds… The footage for the video was shot on location in the deep woods of rural Pennsylvania. From there, the mystery only deepens – right up to a twist ending that you would never expect.
The uneasy, noir video matches the song that is filled with a restless energy of hushed, fever-dream vocals, beguiling synthesizers, textured guitars, hypnotic beats, and a vocal sample on the choruses that sounds very much like a rhythmic exhalation of breath.
Camera2, which contains members of Stellastarr and Teddybears, has created a song and video that will linger in your head long after the music stops. Chase has never had a shortage of musical ideas, and "Natalie" demonstrates that even after years of producing, recording and playing with such artists as Tahiti80 and Juliana Hatfield, he's just hitting his stride now.
Chase reveals some details about the meaning of the song and video, commenting, "Natalie was the first girl I met just after the breakup of my marriage. She was devastatingly gorgeous and, like me, a bit of a lost soul when we met. Natalie was from Eastern Europe and had this strange, unsettling magnetism about her that I was impossibly drawn to. Being in Natalie's presence always reminded of what it must feel like to the frail human while under the supernatural will of his vampire master. Her exquisite beauty and violent power over me was the inspiration for Camera2's music video. My best friend Josh Stoddard, a very talented music video director, knew full well the story behind the song, and was the perfect choice to direct this dark piece."
Website
Facebook
Twitter
Instagram