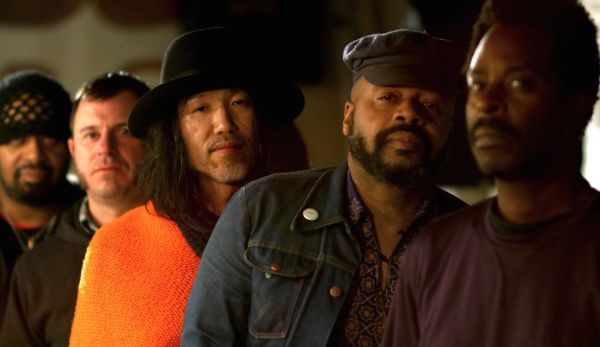 16 October 2019
The Veldt in Asbury Park, NJ – Photo Credit: Todd L. Williams
Some of our fave shoegazers are back with a new video and tour announcement – The Veldt, known for pioneering their astounding hybrid of psychedelic rock and alternative soul, is pleased to present their live Oak City Session 2019, filmed in cooperation with the City of Raleigh.
The band has roots so deep into the shoegaze genre that they were involved in its very proliferation during the early '90s. At that time in the UK, bands like Lush, Ride, Chapterhouse, The Telescopes, Catherine Wheel, and My Bloody Valentine were all the rage. But on the U.S. side of the Atlantic, niche lovers of this genre were thrilled with a small handful of homegrown counterparts: Swirlies, Drop Nineteens, Medicine, The Brian Jonestown Massacre, and The Veldt
Pioneering shoegazers The Veldt have also announced East Coast tour dates, including a mini-tour with legendary UK electronic gaze outfit Seefeel for their debut North American tour. Other appearances also involve other artists along with way. The tour kicks off on Friday, October 18 in Raleigh, when the band perform with Creation Records legends Swervedriver.
The Veldt is identical twins Daniel Chavis (vocals, guitar) and Danny Chavis (guitar), along with Hayato Nakao (bass), Marvin Levi (drums), and Alex Cox (guitar). Together they produce a heady and sensual blend of shoegaze and progressive soul, dreamy soundscapes and infectious grooves. Their latest EP is Thanks to the Moth and Areanna Rose.
The new EP features contributions from two 4AD music legends of the dreampop and shoegaze world (a remix by A.R.Kane and production by Robin Guthrie of Cocteau Twins). The Bandcamp version of the EP also features two legends of the trip-hop and rap/trap world ('Dakini' was remixed by Jason Furlow, a.k.a. Nosaj of New Kingdom and Carlos Bess of the Wutang production team).
The Veldt's sound has accommodated the influence of musical kin Cocteau Twins as readily as it did Marvin Gaye and free jazz warriors Sun Ra and Pharaoh Sanders. These trailblazers reference European post-punk while embracing modern hip-hop, and working with transient dreamscapes as fluidly as solid song structures.
Pitchfork included The Veldt Afrodisiac in the top 50 shoegaze albums ever released and Stereogum included Until You're Forever in the top 31 shoegaze tracks. Their sound also inspired future generations of alternative artists, including TV On the Radio.
After signing to Capitol Records in 1989, The Veldt joined Robin Guthrie for debut recordings, followed by tours with Cocteau Twins and Jesus and Mary Chain, and recording Marigolds with Lincoln Fong (Moose, Piroshka). Their classic Afrodisiac (1994) was produced by Ray Shulman (The Sundays, Bjork, Sugarcubes) and released via Mercury Records.
The Veldt has collaborated with TV On The Radio, Mos Def, Lady Miss Kier (Deee-Lite), and 4AD legend A.R.Kane and shared the stage with The Pixies, Throwing Muses, Echo & The Bunnymen, Cocteau Twins, Manic Street Preachers, The Jesus and Mary Chain, Oasis, Chuck D, Living Colour, and Schooly D.
Thanks to the Moth and Areanna Rose is out now via sonaBLAST! Records and can be ordered directly from the band via Bandcamp. The band is expecting to announce a new album in early 2020.
TOUR DATES
Oct 18 Carborro, NC – Cat's Cradle (with Swervedriver)
Oct 25 New York, NY – Lola (with Johnny Scuotto)
Oct 31 New York, NY – Alphaville (with Your 33 Black Angels, Micah Gaugh, Honeychild Coleman & Haunted Horses)
Nov 08 Boston, MA – Dorchester Art Project (with New Aura & Mint Green)
Nov 10 Montreal, QC – Bar Le Ritz (with Seefeel & Automatisme)
Nov 11 Toronto, ON – Adelaide Hall (with Seefeel)
Nov 12 Chicago, MN – Empty Bottle (with Seefeel)
Nov 13 London, ON – Odyssey Records (with Anne Moniz)
Nov 14 Brooklyn, NY – Warsaw (with Seefeel)
Nov 15 Philadelphia, PA – Johnny Brenda's (with Seefeel)
We also invite you explore the band's brilliant "Black and Blue", which features footage by Yuko Sueta, the late wife of Veldt guitarist Danny Chavis.
THE VELDT
Website
Facebook
Twitter
Bandcamp
YouTube
Soundcloud
Reverbnation