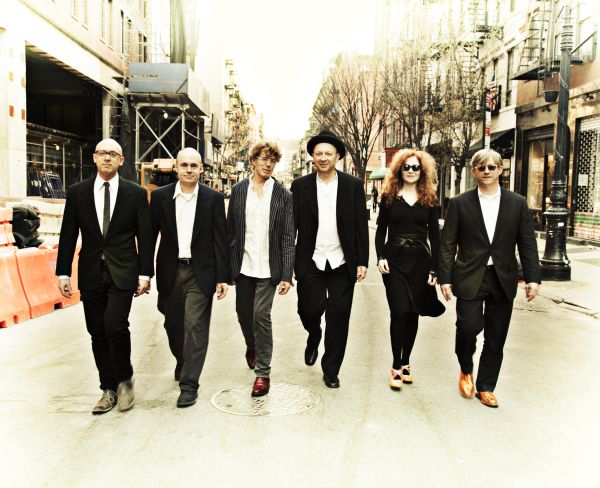 22 December 2020
Life In A Blender – Photo Credit: David Barry
Poughkeepsie, New York-located outfit Life In A Blender play an upbeat, yet punky style of brainy indie pop, a bright and bristling sound that can be found on their latest EP, their 10th studio outing Satsuma.
The 6-song record arrived in late November and was produced at guitarist Al Houghton's Dubway Studio in New York City. It was released by Fang Records as a deluxe CD package and digital download.
The physical edition of the album is a limited-edition book and CD, featuring original art and cocktail recipes from a variety of artists and mixologists, inspired by each song. Another aspect of Satsuma that makes it different from the other titles in Life In A Blender's deep catalog is that most of its songs have their seeds in stories written by others.
The majority of the tunes sprang from the Bushwick Book Club, a salon series lead vocalist and co-founder Don Rauf participated in that sees songwriters composing and performing songs based on selected books.
Satsuma features the act's long-time lineup of Rauf, guitarist and cellist Dave Moody, Houghton, bassist Mark Lerner, drummer Ken Meyer, and violinist Rebecca Weiner Tompkins, augmented by guest horn players Jackie Coleman (trumpet), Drew Krasner (alto sax), and Kevin Moehringer (trombone).
Big Takeover is pleased to host the whimsical video for the trippy and plucky jangle pop track "Party in The Drunken Forest" from Satsuma.
The video clip was directed by Don Rauf's son, Leo Rauf and was shot at City Park in New Orleans. The song sparked the imagination, producing a fever dream image of a wayward clown running amok in the woods.
A female clown wanders through the aforementioned forest, galavanting through a clearing, picking a giant flower, creeping through a patch of wildflowers. As she takes a break from her frolics, she encounters a rocker dude by chance.
As bright day turns into night, the clown and the rocker chat away and drink themselves into a flushed haze from a giant bottle of wine. There are fine times to be had in the Drunken Forest!
Don Rauf, explains the literary origins of the song, revealing, ""Party in the Drunken Forest" is inspired by Peter Wohlleben's The Secret Life of Trees. He talks a lot about the hidden communication and interactions among plant life and creatures in the forest."
"There's a part where he talks about a number of trees in the Valley of the Moon woods (in Alaska). The trees lean drunkenly, tilted sometimes as much as 30 degrees. That image of drunken trees really triggered the whole idea for the song— that at night time, the woods really lets its hair down, and when the sun comes up, party's over."
Leo Rauf comments on the making of the video, stating, "For several months I've been part of a coalition for clowns in media called the WWLCL. The group sends a handsome check to any and all creators who spotlight clowns in their work, especially in a positive light. With very little money coming in, the WWLCL's cash guarantee was heavy on my mind at almost all hours."
"When I was recommended to produce Life in a Blender's music video it was a stroke of tremendous luck, as the lyrics are constantly conjuring up visuals of carnival fare— specifically clowns. With my brain running like clockwork, I managed immediately to get my hands on a camera, and I haven't stopped filming since. What started out as an innocent cash grab metamorphosed into something much more beautiful, which you see before you."