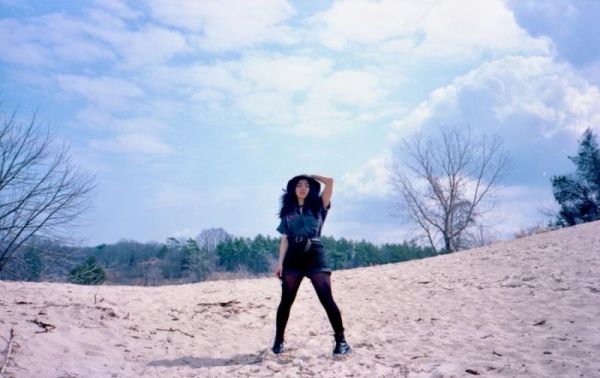 16 June 2020
Sophia Nadia of Cold Beaches – Photo courtesy of Sophia Nadia
Cold Beaches is the psychedelic rock 'n' roll/dream-pop music project of Sophia Nadia and she will be unveiling her captivating new album, Drifter, on July 31st.
Drifter is the most dynamic, live-recorded, and thoroughly orchestrated album from Cold Beaches. Nadia's sincere and perceptive lyrics range from the heartstring-pulling losses of friends and relationships to the optimism of independence and liberation from depression and anxiety. Nadia emotes on the album's 10 tracks with a newly founded voice of empowerment and fervent energy.
Cold Beaches began in 2015 when Nadia moved from the suburbs of Washington DC to Richmond, Virginia. There she met Connor Wood, the late frontman of local Richmond band 3 Legged Dog, and was convinced to start a solo project. Since releasing her lo-fi DIY debut album, Aching, in 2016, Cold Beaches has toured around North America consistently.
For the aptly titled Drifter, Nadia (songwriting, composition, vocals, guitar, keyboards) is joined by Robby Kuntz (drums), Eric Novak bass, piano, saxophone, flute), Charlie Atchley (guitar), and *Ryan Donlin (bass). The LP was recorded and mixed by Matt Holmes from the Echo Mill and mastered by Barrett Guzaldo from Treehouse Records.
It's essential to listen to Drifter right now in the midst of this tidal wave of isolation that the world is feeling, which is right where Cold Beaches' consistent expression of loneliness has always thrived. It is an album that people from all walks of life can openly interpret and apply their feelings individually, and find that they are in good company.
Nadia especially wants to create a space where marginalized people in the music industry can feel understood and important. Struggling with, surmounting, and sometimes succumbing to life's challenges are all part of the natural cycle of existence. Love, connection, loss, and being alone in the world are all part and parcel of life.
Big Takeover is deeply pleased to host the premiere of the video for lead single "Problems and Heartache (I Got Them)".
The dreamy, psych-tinged video clip was created and produced by Nadia (with an assist from Casey Tobias) and features her dancing and delivering her reflective lyrics under the colorful, kaleidoscopic shine of a disco ball. Interwoven in the the video is superimposed footage of Nadia night-skateboarding down quiet, but car-lined city streets.
Dream-popper "Problems and Heartache (I Got Them)" swims with airy synth chord progressions, reverberating guitar shimmer and chime, bass line undertow, a strict, but driving drum beat, and Nadia's gentle, crooning vocals. She shows her vulnerability on this song by transporting to a place where the music, and her emotions are multi-layered and relateable.
Once it is safe to hit the road again in the eventual and uncertain future, you can count on Nadia to make her rounds as Cold Beaches once again and show off her new sound.
Facebook
Twitter
Instagram
Bandcamp
Spotify