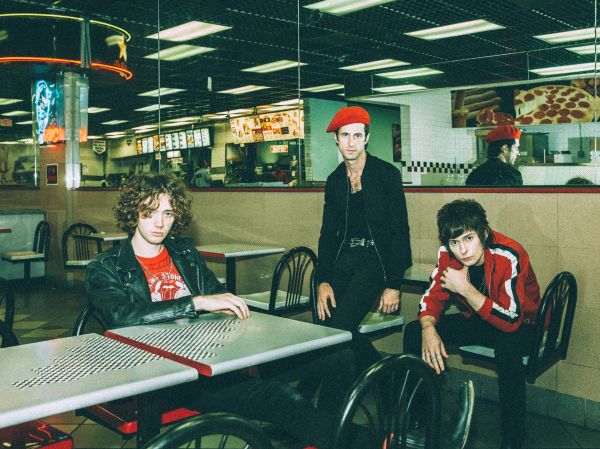 6 February 2019
Warbly Jets – Photo Credit: Erina Uemura
In our globalized, algorithm-ruled, data-based society, where the lines between public and private are blurred beyond recognition— and where the hive mind masquerades as marketable individualism and Big Brother is welcomed with open arms in the name of convenience — some alarming questions present themselves:
"What is human connection? How easily are we bought and sold (out)? Is there any way to cut through all the noise? Is it too late? Do we even care? And how does music —real music— fit into it all?"
These are the ideas that motivated Los Angeles-located indie rock band Warbly Jets on their recently released EP Propaganda. On the EP, the trio examine the idea of life commodified, with a genre-wrecking, sample-based set of rock songs that highlight their studio dexterity, as well as their disinterest in doing what anyone expects of them.
Just like Warbly Jets' 2017 self-titled debut album on Rebel Union Recordings, Propaganda pulls no punches, articulately and acidicly riffing on the seedy state of things, over an arena-ready, anthemic sound.
"'Propaganda' is a term as much as it's a cultural ethos that's been widely accepted. Anything from advertisement to self-aggrandizement qualifies," explains multi-instrumentalist Julien O'neill. "From social media, push notifications, targeted ads — we've openly elected to carry around miniature billboards, playing our part under the promising guise of a sense of 'connection.' We feel empty without it."
The Big Takeover is mighty psyched to host the premiere of the video for the socio-politically relevant "Propaganda", the EP's title track and rallying cry against commercialism, exploitation, and false and misleading advertisement that is so prevalent in modern culture, including the current political swamp we're all sinking in (Is that a sketch of an empty-face Trump 24 seconds into the video? It would be appropriate…).
Brief clips of various people forced to live on the streets showcases the horrific plight of the homeless in the U.S., while other found-footage pieces, including military drills, casinos, vintage TV shows, and store products flash by, distracting the viewer from the urgent and real problems that face the nation.
The video's director Samuel Richard gives even more insight into the quickly moving images, stating, "The idea behind the visual direction of this song is to show a side of feeling overwhelmed. There's lots of fast changes showing pain and over-saturation. The Propaganda EP is primarily sample based, so the idea was to match the visuals to what the music is also doing. There's lots of sample footage of propaganda and pain. I also shot super 8 footage of people on the streets of Los Angeles, showing different sides of life. My goal was to shine a light on the extreme suffering and overindulgence."
Singer and guitarist Samuel Shea gets down to brass tacks about our current willfully disconnected and unreal times, commenting, "The era of real life human interaction is heading for a swift end. We experience life through likes, comments, and products [and by] ignoring the chaos and suffering around us. Our culture at large has been weaponized by propaganda. We exist like robots inside of a program we ourselves created."
Remaining TOUR DATES:
2.06 – Washington, DC at Songbyrd
2.07 – Brooklyn, NY at Brooklyn Bazaar (w/ Collapsing Scenery and w/ Moonwalks)
2.08 – New York City, NY at Mercury Lounge
2.09 – Philadelphia, PA at Kung Fu Necktie
2.10 – Boston, MA at Middle East
2.12 – Montreal, QC at Quai Des Brumes (w/ Moonwalks)
2.13 – Toronto, ON at The Drake Underground (w/ Moonwalks)
2.14 – Detroit, MI at Third Man Records (w/ Moonwalks)
2.15 – Chicago, IL at Schubas (w/ Moonwalks)
2.16 – Minneapolis, MN at 7th Street Entry (w/ Moonwalks)
2.17 – Kansas City, MO at The Riot Room
2.19 – Denver, CO at Lost Lake
APRIL (TOUR DATES CHINA):
4.28 – Beijing at Omni Space
4.29 – Shanghai at Yuyintang
5.03 – Wuhan at Vox
5.04 – Chongqing at Nuts Live House
5.05 – Chengdu at Little Bar
5.08 – Guangzhou at Rutu Space
5.09 – Shenzhen at B10
5.11 – Taipei at Revolver
Website
Facebook
Twitter
Instagram