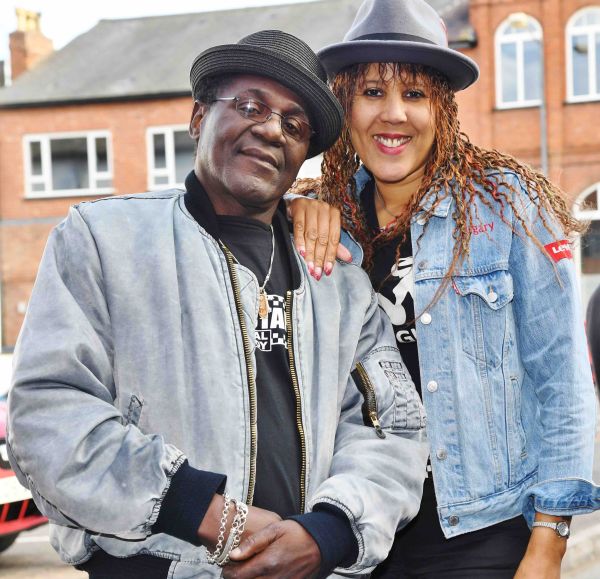 2 April 2019
Neville and Sugary Staple – Photo courtesy of Neville and Sugary Staple
With decades' worth of accolades, awards, and songwriting credits to his name, Neville Staple is no stranger to the spotlight. Label founder, sound-system kingpin, toaster, vocalist, songwriter, mesmerizing performer – he is all of this. He is THE ORIGINAL RUDE BOY.
Now it's Neville's turn to shine a spotlight on an issue that is very dear to his heart – one that needs to be taken by the horns and wrangled into peaceful existence – knife violence. While guns are the main point of contention in the US, it's knives in the UK.
Very timely for the current detrimental trend in UK society and too late for Neville's own family (in September, his 21-year-old grandson Fidel Glasgow was stabbed to death), he and his wife Sugary Staple are sending a message loud and clear to today's youth.
The Neville Staple Band's powerful new single 'Put Away Your Knives' may sound familiar (you'll recognize the tune from The Specials' smash hit 'A Message to You, Rudy', but with new words reflecting this fatal trend. The fact that British-Jamaican reggae musician and producer Dandy Livingstone, who penned 'Rudy, A Message to You' (the original name of this song), is involved speaks volumes!
This single follows the new 'Rude Rebels' album from Sugary and Neville Staple, released via Cleopatra Records with contributions by Specials guitarist Roddy Radiation (a.k.a. Roddy Byers).
"We are dedicating the song to my grandson Fidel and to everyone else out there, who has been affected by violent crimes. It's time we take back some control and teach the youth right from wrong, and the consequences of their actions. This song is highlighting the pain and the anger being inflicted on the families too. It asks the youths to just stop, think and put down the knives," says Neville Staple.
"Even while we were in the studio recording this, my wife Sugary and I became very emotional. It hurts bad when you lose someone so young in the family, but it's even harder when you know that someone took their life early. I get angry at just how easily the youth find it now, to carry weapons around. They seem to have no thoughts for who they are really hurting, including themselves. It is us, all the generations above them that must step in now and help fix this mess. This disregard for life! No one else is going to sort it out!"
The Staples are a permanent fixture of the widely regarded and enormously active UK ska scene, performing regularly at clubs and massive festivals. They are also well-known for their charitable work and social activism. Internationally, they are considered to be ska royalty, perhaps the loudest torch-bearers of this musical genre, continuing to build bridges between Jamaica and the UK and ska bands worldwide, not to mention between the oldest of ska pioneers and young emerging artists through regular '3 Generations of Ska' tours around the UK.
Known as The Original Rude Boy, Neville Staple is a legendary frontman and co-founder of The Specials, Fun Boy Three, 2Tone, and the Special Beat with Ranking Roger. Over the past four decades, Staple has picked up multiple awards, including from MOJO and NME, as well as Gold, Silver, and Platinum discs. Today he fronts The Neville Staple Band together with award winning wife Sugary Staple, known for spearheading the Skamouth series and also as an actress, vocalist end event promoter for over 30 years,
With 2019 being the 40th anniversary of Neville's successful music career, and also for The Specials and 2Tone Records, this is a timely release. 'Put Away Your Knives' underlines that, not only has violence not gotten better after all these years, but that it has actually escalated.
"We talk to young offenders and go to some schools and chat about the seriousness of violent crimes and talk about ways of staying away from it. Some are even young parents themselves! I asked if they would want their child to know that they cut someone or even killed someone. What kind of a role model is that?" asks Sugary Staple.
"I call upon all the 'good' young people out there to join forces in saying #PutAwayYourKnives to other friends who you know are carrying. Why not make it a cool thing to share that message and separate yourselves from the negatives and the dangers."
'Put Away Your Knives' can be downloaded from" iTunes":https://itunes.apple.com/us/album/put-away-your-knives-feat-sugary-staple-dandy-livingstone/1456682714 and Amazon, and streamed on Spotify.
You can also donate to Victim Support
This earlier interview with Neville and Sugary Staple provide some context to the importance of this song and how deeply this contagion has affected their family:
NEVILLE STAPLE / THE NEVILLE STAPLE BAND
Website
Facebook
Bandcamp
Twitter
SoundCloud
Spotify