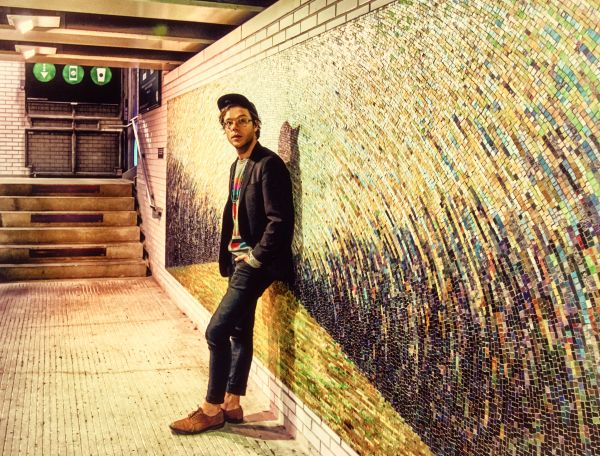 26 August 2020
Christopher Ford aka Christopher the Conquered – Photo Credit: Josh Terzino
Denver, Colorado-based musician/singer-songwriter Christopher Ford, acting out with sonically bold and lyrically acerbic enthusiasm as Christopher the Conquered, will release his new album, I Am Christopher, on September 25th via Grand Phony Music.
Ford is a born entertainer and has aptly been likened to Elton John for his his piano-driven tunes, catchy song structures, and larger-than-life attitude. Big-name kindred spirits like Freddie Mercury, Ben Folds, and Hedwig all inspire the artist's emotive delivery. And like these icons, real and imagined, Ford has a sense of humor that lets his performances go way off into outer space without ever failing to remain grounded in truth.
Big Takeover is gleefully pleased to host the premiere of the cheerfully sardonic music video for rollicking and lyrical biting track "Put It On Your Credit Card." As Ford sings, it's the thing to do "when life gets hard" This piece of satirical life advice has been given, even gifted, if you will.
Ford aims at targets like the filthy rich and Trump on the song and video, blazing away at the keyboards in some pretty on-point Elton John-inspired get-ups. At the end of the clip there's even a faux '80s-style infomercial that introduces the 'Christopher the Conquered' credit card
Ford gives some details about the song, divulging, ""'Put It On Your Credit Card' is directly inspired by the number of times I had to take on debt to stay on the road, to record the next song, etc.," says Christopher Ford aka Christopher the Conquered. "I half fear money and half don't think it's even real. Barely making a living as a singer-songwriter definitely gave me a thick skin around risk, so I'm kinda serious when I'm telling people to 'put it on your credit card!' It's not like we have debtor's prisons anymore, and once you die, it's all gone anyway (as long as you don't get married… I think!)."
As for the song's music video, Ford comments, "One of the reasons I chose this song to do a video for is because it's short, which made doing the video a hell of a lot easier, and it's silly, so I could do whatever I wanted, and it kinda made sense. Most of the creative decisions made in this video were determined by what John Young (the owner of my label Grand Phony) had around his house in Pennsylvania. I was bumming around his house and digging through his basement. Turns out a guy with three daughters has a ton of fun toys and costumes around, and he's got a hot tub, so that had to be in the video, too. It was really just a fun afternoon of filming a bunch of stuff we thought would work, and then throwing it together. Probably the easiest music video I've ever made."
Website
Facebook
Twitter
Instagram
Grand Phony Website