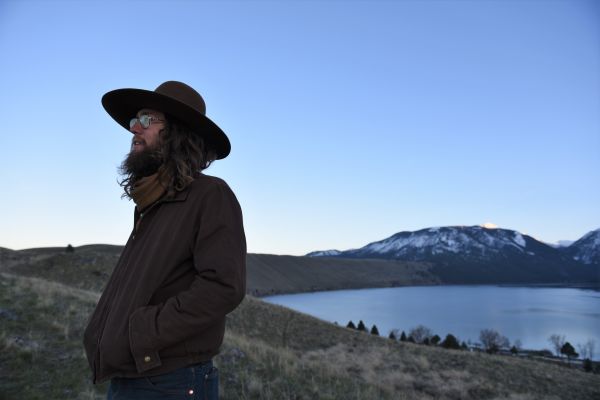 16 April 2019
An American Forrest – Photo Credit: Nicole Freshley
An American Forrest is the name of Forrest Van Tuyl's western music project. Orgeon-residing Van Tuyl was recently a featured performer at the 2019 National Cowboy Poetry Gathreing in Elko, Nevada (alongside folks like Ian Tyson and Colter Wall).
When Van Tuyl isn't touring in support of his music he works as a cowboy in a pack outfit that hauls explorers, researchers, and their equipment into the two-million acre expanse of the Wallowa-Whitman Wilderness. He spends many months of the year on horseback, and training horses. As a result his lyrics are full of contemplative, complex verses that trot and canter as honky tonks and western hymnals.
Van Tuyl's new album O'Bronder, Donder Yonder? is slated for release on May 3rd via OK Records and was recorded at Mike Coykendall's Blue Room Studio in Portland, Oregon.
The Big Takeover is mighty pleased to host the premiere of a live performance video for the uptempo and engaging "Rawhide", which was recorded at Blue Room Studio. In the video Van Tuyl and company play with laid-back verve, full of vim and twang, as Van Tuyl, with the grit of his travels in his throat, sings his deeply personal lyrics in a disarming, spirited vocal tone.
About the song, Van Tuyl states, "Rawhide is soaked for a few days to allow the hair to loosen and "slip," then stretched and hung in a frame to dry and have the hair scraped off before getting cut into strings and braided into something useful like a bosal (halter) or a reata (catchrope). Similarly, I was born in the dark, damp, flood country and clearcut hills of western Washington and didn't realize my full potential until I crossed the Cascades and found wide open cattle and horse country in eastern Oregon. Other than that it's a full-on love song with everything I've learned in my 29 years crammed into 3 verses. The ending is a nod to John Prine's "Illegal Smile""
Website
Facebook
Instagram
YouTube
Bandcamp