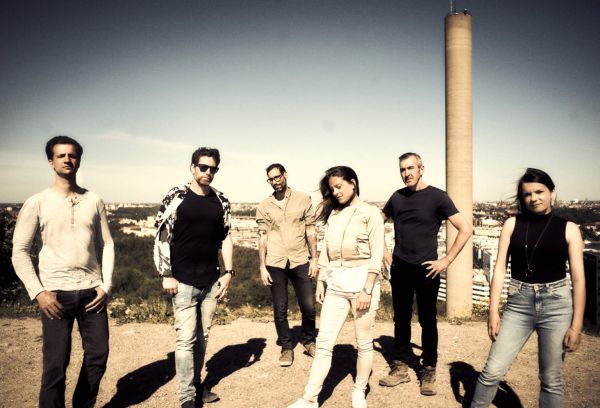 24 November 2021
Tiny Fighter – Photo Credit: Marco Engman
No stranger to us at The Big Takeover, indie pop outfit Tiny Fighter are back with a new single 'Rewind', and, in typical fashion, this means a bigger release for the Swedish-Australian collective. Oh yes, this song is the first taster of their new album of the same name. And it is as superb as anything they have ever released. Admittedly, given their consistent excellence, we are not surprised.
"Rewind" is a contemplative number that unfolds with soft piano notes, gently cycling guitar stream, and heartfelt and airy vocal harmonies. Although the music is relaxed and grounding, the lyrics are bittersweet, reflecting on the past that cannot be changed.
The accompanying music video for this track was created by filmmaker Christian Rutegård and Therese Karlsson. It focuses on beautiful and calming natural landscapes and a young woman who is writing in a journal, head bent down, thinking inwardly of days gone by, regret mingled with acceptance.
Formed in 2017, Tiny Fighter grew from a collaboration between Therese Karlsson (a truck driver from Kalmar in the deep south of Sweden) and Tim Spelman (a doctor from the deep south of Australia), into a full band with members from all over the globe (Poland, Israel, UK, Australia, Sweden). They have released a string of singles and EPs, a live album, a remix collection and the full-length debut album 'Going Home'.
After racking up 1 million views on YouTube, over 700,000 Spotify streams and successful tours through the US, Canada and Europe, Sweden's Tiny Fighter were poised for a small but significant slice of world domination. Then came COVID, effectively putting the brakes on the whole machine. Faced with an extended period of no touring, a fan-campaign led by a collection of locked-down Tiny Fighter supporters began to follow-up the band's celebrated 'Loft Sessions (Live in New York)' album. The problem – there was no live music, much less any touring. The solution – record a completely new record combining brand new songs with re-interpretations of some of their fan-favorites. Thus, the 'Rewind' album was born.
Different times call for different methods. The 'Rewind' recording sessions saw the band bring in an absolute sack full of new instruments, including mandolins, dobro, trumpets, flugelhorns, pedal steel and drum machines. In perhaps what is their most Scandinavian moment to date, Tiny Fighter recorded vocals in the studio sauna (arguably on account of the excellent sound-proofing and bonus warmth.
Tim Spelman comments, "This record represents somewhat of a departure from our previous pop-rock based releases, with a heavier reliance on acoustic instruments and bringing in new layers including brass, mandolins, pedal steel and drum machines. The pop is still there, but it's more intimate and stripped back – that's why we recorded the vocals in our sauna."
This long-player again sees Tiny Fighter team up Swedish metal legend and multi-Grammy award winning producer Thomas "Plec" Johansson (Opeth, Soilwork, Degrade), this album being recorded at The Panic Room Studio in Skövde and Stockholm, Sweden.
"Our new album is a more acoustic take on our songs that already exist, with the exception of one cover and a Swedish version of one of our songs. It has been fun looking into our own rearview mirror and now bringing some of our songs to light once more with an acoustic touch. So for this album, we are Rewinding time and, at the same time, we look forward to seeing what lies ahead of us," says Therese Karlsson.
"Usually I receive the music from Tim, so first I get particular feelings from the music and that feeling turns into words and, in the end, it becomes a story. The lyrics are inspired by other people, their life stories or my own inner feelings or observations about society. This 'Rewind' album sees a mix of all of that."
On December 3, the 'Rewind' album will be released via Bay Terrace Records and will be available everywhere, including Bandcamp, where it can already be pre-ordered.
CREDITS
All songs written by Tim Spelman and Therese Karlsson, except 'Sprinter' (written by Mackenzie Scott)
Produced, mixed and mastered by Thomas "Plec" Johansson and Tim Spelman at The Panic Room Studio, Skövde & Stockholm, Sweden
Photography by Marcos Engman (instagram "at"mecno)
Video by Christian Rutegård & Therese Karlsson
TRACK LIST
1. You Said To Me
2. Sprinter
3. New Century (acoustic)
4. If I Could See
5. Happier (svenska)
6. Strangest Thing (acoustic)
7. Tell Me (acoustic)
8. Rewind
You may be wanting more on the back of this new single, so here are their two most recent videos:
Tiny Fighter
Facebook
Bandcamp
Twitter
YouTube
Instagram
SoundCloud
Apple Music
Spotify