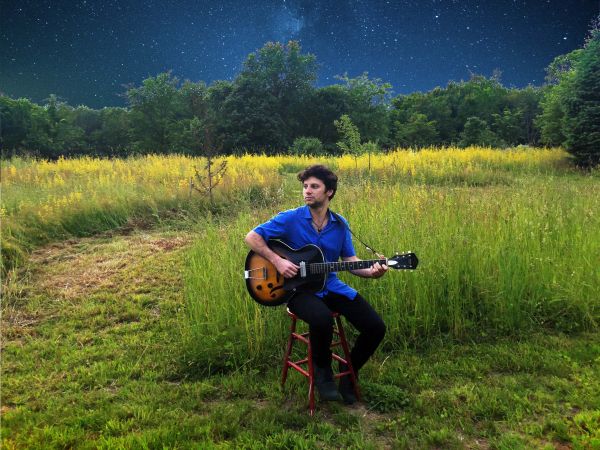 2 May 2019
Dan Kleederman of Grand Kid – Photo courtesy of Dan Kleederman
Captivating and newer Brooklyn-based indie rock band Grand Kid (which includes members of Throw Vision) who have earned hype from Bust, MXDWN, Impose, and PopMatters, plan on dropping their debut full-length studio album in late 2019/2020.
The Big Takeover has the pleasure of hosting the premiere of a spellbinding live performance video of gently epic "She'll Be / I'll Be" from Grand Kid way ahead their LP release. The video was recorded at Welterweight Sound Studio in New Paltz, NY. Band founder Dan Kleederman plays guitar and is supported by Chris Connors on bass and Alex D. Goldberg on drums.
Kleederman started up Grand Kid (both a solo act and a trio, depending on circumstances) after a decisive experience in his life. In the spring of 2012, the then-22-year-old Kleederman received an unconventional birthday gift from his sister – a phone call with a psychic.
Though skeptical at first, his mind opened a bit when the conversation turned towards his grandmother. Long understood as the clearest source of his musical gifts, she was was tragically killed in a car accident before he was born. According to the healer, however, she was trying to communicate with him now, encouraging him to follow his passion and inclination towards a life in music.
Grand Kid is Kleederman's ode to the old and the young – the magic of intuition and wisdom, and the unadorned vulnerability of youth that never seems to leave. Grand kid plays an eclectic and soulful type of alternative rock that manages to find a home as much in Radiohead as it does in Ry Cooder. Through the strength of his thoughtful vocals and the striking timbre of his guitar, no matter how far out – or far in – the music goes, it always carries with it an authentic beauty and arresting intimacy.
Often supported by a high-flying trio, Grand Kid also performs solo accompanied by vintage drum machines, organs, and brass by way of cassette tapes.
The full band experience can be seen and heard on the mellow, yet focused, psych-tinged performance video for "She'll Be / I'll Be" at Welterweight Sound Studio. Restless passages flow with fluidly wavering guitar reverb, supple bass line, ticking to shimming cymbals, and measured drum beats. On the chorus sections Kleederman and the bassist trade off vocals that echo dreamily into space.
A calm lull slowly morphs into a psychedelic swirl of spiraling guitar line, kicky drum beats, and Kleederman's airy, pining cries. The turmoil dies down to another reflective lull of just Kleederman on guitar before the other instruments join him in a subdued, yet still enthralling manner. Grand Kid are ones to watch (and listen to!) on the NYC – and (inter)national – scene.
Kleederman explains the two-part nature of the deep track, divulging, ""She'll Be" stares in the mirror at the naturally surrealistic experience of having a partnership explode from a small, but impossibly dense kernel of truth. Though paradoxes abound, the romantic, emotional and psychological wrestling match ultimately barrels towards a free fall — a letting go as cataclysmic and as unavoidable as previously feared and intuited." He concludes, ""I'll Be" is the remainder: a lullaby for one – a work-song for the project and promise of aloneness."
Upcoming Shows:
May 2nd: Brooklyn Bazaar (Cellar) – 7 pm with Baby Fuzz, Pink Flamingo Rhythm Revue, and The Big Easy
June 6th: Rockwood Stage 1 – 8 pm
June 20th: c'mon everybody in Brooklyn.- 10 pm with Bartees Strang