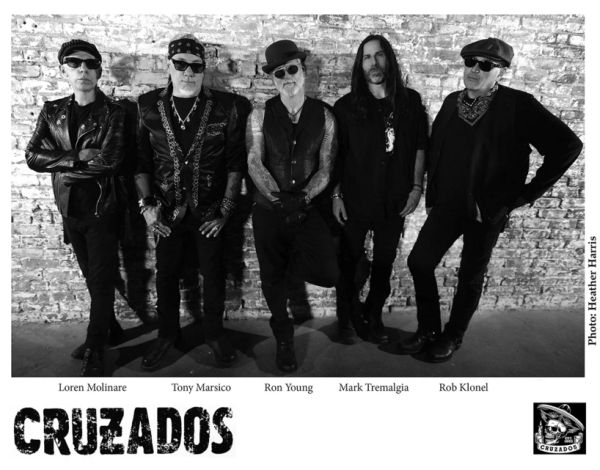 10 August 2021
Cruzados – Photo Credit: Heather Harris
Founded by bassist and songwriter Tony Marsico, hard-rocking Los Angeles-located rock band Cruzados will be releasing their upcoming album, She's Automatic, on August 13th – their first release in more than 30 years.
Cruzados are a potent rock 'n' roll outfit from the 1980s who are making a phoenix-style return with She's Automatic. The LP features some top-tier musical guests, including John Doe (X), Dave Alvin (the Blasters), David Hidalgo and Steve Berlin (Los Lobos), and Melanie Vannem (the Muffs, the Pandoras).
The new release features 11 songs written or co-written by Marsico, with Bruce Witkin engineering and producing the full length at L.A.'s Unison Studios. It will be issued on CD via Marsico's imprint Scamco, as well as select digital and streaming platforms. An LP edition will follow in the fall.
The album is a live, hot, no-nonsense collection of punchy and rollicking rockers on which Marsico is joined by the members of his '80s L.A. contemporaries, Little Caesar.
The Cruzados attracted national attention in the '80s with their stormy, Latin-inflected brand of post-punk hard rock. Signed to Clive Davis' Arista Records, the quartet issued two albums, Cruzados (1985) and After Dark (1987). They also made a high-profile screen appearance in the 1989 cult classic Road House.
However, familiar rock 'n' roll pressures capsized the band in 1991; guitarist Marshall Rohner died in 2005, and drummer Chalo "Charlie" Quintana died in 2018.
In the intervening years, Marsico worked on the debut album by Cruzados precursor band Plugz, and Cruzados singer-guitarist Tito Larriva's band Tarantula, today based in Austin. He also carved out a notable career as a top session musician and touring sideman with such artists as Bob Dylan, Neil Young, Roger Daltrey, Marianne Faithfull, and Willie Nelson.
The bassist's studio and road stories are collected in two books, Late Nights With Bob Dylan (2009) and I'm Just Here for the Gig! (2020).
With the onset of the pandemic in 2020 and the enforced solitude that followed, Marsico began to contemplate a new project under the Cruzados handle.
"Being penned up with the pandemic at home for a year, I started questioning my mortality," he says. "I felt like I got shortchanged with the Cruzados. We never got to put out a third album, due to a lot of crazy circumstances that cropped up. I wanted to do the band justice and go out on a high note. That was my goal, and to pay tribute to Chalo and Marshall."
It didn't take long for Marsico to decide on the right musicians to carry on the Cruzados' legacy in the studio: He turned to singer Ron Young and guitarists Loren Molinare and Mark Tremalgia of Little Caesar, who were also active on the L.A. scene in the late '80s as a Geffen Records act. The core lineup was completed by drummer Ron Klonel, who has collaborated with Little Caesar in recent years.
Big Takeover is pleased to host the music video for the gritty and tuneful "She's Automatic." The clip is part live performance and part throwback footage of '50s and '60s-era turn-ons, from speeding car races to femme fatale imagery.
Marsico comments, "Director Josh Dragotta nailed it perfectly, capturing the intensity I was hoping for in our debut video for "She's Automatic." Filmed on a sound stage in downtown Los Angeles, "She's Automatic" features footage of Cruzados performing live, interspersed with fast cars, pin-up girls, and archival film clips from the 1950s and beyond. The video is gritty, scary, sexy, shocking, and somewhat disturbing, and in my mind that pretty much describes what rock and roll should be."
The track itself is a cautionary tale about the dangerous lure of lust. Marsico explains, "If anyone out there has ever been on a blind date from Hell that went from bad to worse in a split second, you might relate to this song. In "She's Automatic," our red-hot, devil-eyed mistress lures unsuspecting men into her evil trap only to make them beg, bleed, and plead for their lives. This song is a warning to everyone out there that modern day, internet dating sites weave a wicked love story that could go dreadfully wrong in a heartbeat."
The Cruzados are currently booking dates for a 2022 European tour.