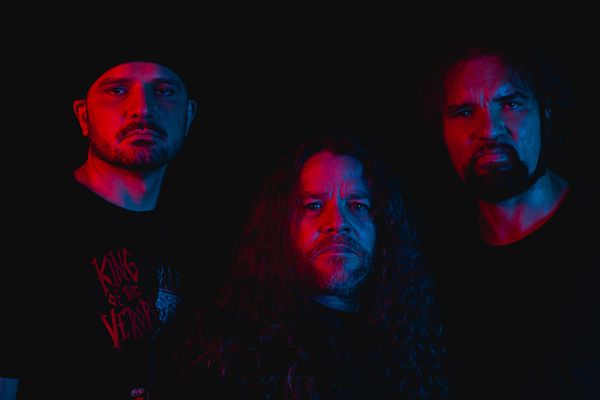 24 February 2021
Pentral – Photo Credit: Diego Formiga and Andressa Sarmanho
Haunting, cavernous, mysterious, heavy, and dark – these are all words that can be used to describe the debut single from Brazilian alternative rockers Pentral.
Hailing from the northern part of the country, a land that is enveloped by the irreplaceable Amazon jungle, this metal-loving trio bring the world 'Silent Trees'.
Despite the 'quiet' title, this song says a lot, conveying deep meaning through a wisely serious socio-political message about what is going on in Brazil and elsewhere too – pollution and other means of destruction of life-giving and life-sustaining forests around the world.
The foreboding song is a warning for what is to come if we don't stop our destructive ways – and much of it is already happening… The urgent vocals press on amid hard guitar jags, lowering bass line, and punchy drum strikes.
This is the first taste of the band's debut album What Lies Ahead of Us, which will be released in May 2021.
This lead single is accompanied by a thought-provoking video filmed in the wilds of their native Amazon forest. The storytelling video clip starts off ominously and then becomes poignant by its end as it speaks to the tragedy of loss.
The impact is both symbolically and literally expressed in the video, as it follows a couple who are living in the rainforest. The woman, who is pregnant, is haunted by premonitions, or possibly the past – of disappearing indigenous peoples, of trash-filled streams.
We see her and her loved one over the course of time (and possible flashbacks), but by the final frame of the story, it's only the woman we see, still with child and lying back against a massive tree where she and her beloved used to spend time together…
For the ten tracks comprising this album, the trio worked with legendary producer Tim Palmer (David Bowie's Tin Machine, The Mission, HIM, U2, Robert Plant, Tears For Fears, Ozzy Osbourne, Goo Goo Dolls, Pearl Jam).
Purveyors of a huge sound with a loaded message, Pentral is made up of Victor Lima (vocals, guitars, songwriter, lyrics), Vagner Lima (drummer) and Joe Ferri (bass guitar). Their unique take on alternative rock can be described as progressive, heavy, groove-oriented and melodic.
Victor Lima lends some insight into this music: "This is a story about a man and a woman, who live in the woods. The forest is invaded… The only way I believe things can be solved is through the power of love. The album is like a journey of three characters (a woman, a man and their child) passing through the many issues addressed in the lyrics on this album."
"This album is like a "declaration", conceived well before COVID-19 emerged. But it kind of fits the current reality we´re experiencing. This pandemic is the outcome of the unfriendly way we've been treating our environment and ourselves as well, and it served to expose our insensitivity, our lack of empathy. We are hopeful that this music reaches the ears and minds of folks all over the world, inspiring them to listen, think and act."
Pentral stands for 'spirit' in Latin, indicating the premise of the message this band is trying to inspire via their sound – the need to transcend this material world through the power of music, without losing connection with reality and human frailties.
Being from the Amazon forest, this heavy power trio deeply is influenced by their roots, their music strongly attached to many global influences while trying to honor Brazil's groove and unique harmonies, progressive rock, metal music, atmosphere and melody.
This debut album sums up years of experimentation among such parallel universes and the search for human awareness of the environment, peace and equality. While known in their native Brazil, mostly through touring efforts, Pentral is ready for their music to transcend borders.
On March 5, 'Silent Trees' will be available across online music stores and streaming platforms. Ahead of the single's official release, Spotify users can pre-save the song HERE
CREDITS
All songs written by Victor Lima
Produced by Pentral and Tim Palmer
Co-produced and engineered by Sergio Fouad and Cesar Botinha
Justin Shturtz – mastering
Tim Palmer – mixing, additional guitars, percussion and keyboards
Victor Lima – vocals and guitars
Vagner Lima – drums
Joe Ferri – bass guitar
Cover artwork by Heidi Teillefer
Pentral
Website
Facebook
Instagram
SoundCloud
Twitter
Apple Music
Spotify
Tim Palmer
Website
Instagram
Twitter
Facebook
Wikipedia