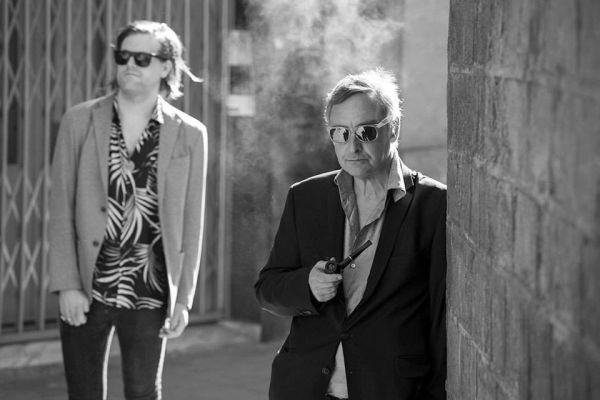 30 December 2019
Petter Stakee and Diego Gary – Photo courtesy of Petter Stakee and Diego Gary
Petter Stakee, the co-founder, singer, and guitarist of rock band Alberta Cross has teamed up with French artist and author Alexandre Diego Gary for the deeply personal new album Les Testaments De Mon Sommeil (loosely translated into English as the Testament of My Sleep).
The LP had originally been released in Europe, but is now available on vinyl in the US, along with an accompanying short film. The 11 intimate songs evoke a place somewhere between two worlds, two countries, a child, two parents – and eventually two ghosts.
Alexandre Diego Gary is the son of famed actress Jean Seberg (there is actually a film out now starring Kristen Stewart about Jean Seberg's life) and novelist Romain Gary.
The lyrics of Les Testaments De Mon Sommeil emerge like long overdue chronicle of the life of Alexandre Diego Gary, who was born in secret and has lived under the radar, particularly after the tragic consecutive deaths of his famous parents when he was a teenager; first his mother's suicide when he was just 17, and then his father's suicide just a year later.
The haunting music of Les Testaments De Mon Sommeil feels cinematic with nuanced instruments and vocals, and the lyrics (mostly in French, but with some English words), are sometimes sung and sometimes spoken, continually echoing with longing, the regret of unrealized dreams, loss, and love.
When Jean Seberg gave birth to Diego, she was under contract that prohibited her from having children. So she went to Barcelona to have her child and hid the pregnancy. Diego's father managed to obtain a French birth certificate and Diego was raised in Paris where they lived as a family until their deaths in 1979 and 1980.
Though Digeo has been writing novels and poetry most of his adult life, he only recently decided to begin publishing his work. He published his first novel, S. ou l'espérance de vie, in 2009 and then Monsieur in 2015. His latest novel, Le Dompteur de mouches, was published in 2017.
The music project began as a spark in Diego's friend Luis Velasco's mind, who suggested doing a tribute film to Jean Seberg to be played at a film festival in Barcelona. Velasco knew and was a fan of Petter Stakee's work with his band Alberta Cross, and brought him in to collaborate with Diego – the result of which was "Lady Jean" in honor of Diego's mother. The project grew and eventually became this collection of 11 original songs.
Diego reflects upon the experience, revealing, "I had been in a lethargic state for so long and was finally actualizing my vision. It was rewarding to finally bring out some of the song lyrics I had been working on over many years past and I enjoyed the process and the positive energy from Petter a long the way."
As for teaming up with Diego, an enthralled Stakee states, ""When I met Diego and learned more about him as a person, his history and work, I knew it was something I had to do. The process pushed both myself and Diego out of our comfort zones creatively and made this project as special as it is. One song turned into an album because we tapped into a mine of creativity that had to be explored. I've toured around the world for years and met some amazing people but Diego Gary is truly the most captivating I've ever met."
The Big Takeover is thrilled to host the premiere of the unique black and white short film noir for the mesmerizing track "Sous Ce Lilas-là" ("Beneath The Lilacs)." The stark and vivid lyrics, translated into English lie below the video.
The atmospheric song is spoken poetically in French, deep and dusky, and filled with the grit of the struggle of life. Reverberating and rhythmic strikes, subdued, but saturated guitar lines, and occasional soulfully cooing female vocals materialize amid the rueful to emotionally erupting rumination.
The video follows a reminiscing Diego as he wanders around outdoors, lost in his memories, laying flowers on a grave at the cemetery, wracked with inner torment, trying to come to grips with being to the one who is alive when his parents have not survived.
Viewers see representations of his mother, hovering behind Diego at times as he's walking down tree-lined avenues, and of his father, smoking and drinking, and putting pen to paper in a bar. Whether seeking closure or some kind of understanding, Diego both mourns for and pays tribute to his parents through his words, his voice, and his spirit.
"Sous Ce Lilas-là" ("Beneath The Lilacs)" LYRICS:
I don't know why,
I don't understand
After all this time
I would have lived
Longer than you?
Longer than you?
The blue gauloises
The green gentians
And my sallow skin
Like a liquorice box,
It was acknowledged
It was arranged,
Agreed between us:
You would grow old,
Thinking of me,
Not too often,
But sometimes;
I would rest,
Beneath the lilac,
You know
This one.
Beneath this lilac
Beneath this lilac
The road is empty
But I can hear your footsteps.
It is like a storm
Where my heart beats,
Scarcely,
Hardly,
But it beats sometimes,
Just to think about you.
(It was acknowledged
It was arranged,
Agreed between us)
Beneath this lilac
Beneath this lilac
If my heart could think,
If my heart could know,
It would stop beating,
Beating up my soul,
Beating myself up.
Beating to the displeasure
Of my damned soul,
Damned evermore.
To have had the time,
To live for a long time,
Beating to the great despair
Of this living dead.
Blue gauloises
Green gentians
And this sallow skin
Like a liquorice box,
Standing up,
Standing up in front of you,
You who rest,
Beneath this lilac
Beneath this lilac
Beneath this lilac…
Website
Facebook
YouTube Music
Spotify