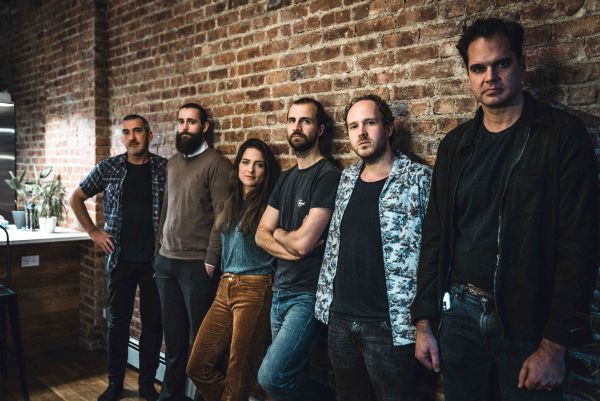 19 February 2019
Tiny Fighter – Photo Credit: Rob Fitzgerald
Sweden's love affair with pop music has a long history and the country's reputation for pop superiority has spanned decades with acts ranging from Abba to Icona Pop, from Roxette to Robyn, from Ace of Base to The Knife and Royksopp. From 1990 to 2003, Sweden's musical exports were at their economic peak. Today, Sweden is the world's third-largest music exporter behind the U.S. and the UK.
Admittedly, they have a knack for writing catchy pop songs. It's no wonder so many record labels have set up representation there. Recent Big Takeover features have been dedicated to Swedish pop output from the likes of Moist and ShapeShiftingAliens, among others.
Today, once again, we turn our attention to Sweden. More specifically, to Stockolm, where Swedish-Australian indie pop outfit Tiny Fighter are based. This indie pop-rock outfit has announced their new Tell Me EP and we have the pleasure of premiering the title track, which should thrill fans of Mitski, Wolf Alice, Metric, No Doubt, Sheryl Crow, and Garbage. With strongly defined and penetrating vocals, perfect accompaniment and solid production, Tiny Fighter packs a big, yet welcome punch!
One of the intriguing things about this band is that it all started with two people and an unlikely meeting. Therese Karlsson is a truck driver from Kalmar in southern Sweden. Tim Spelman is a doctor from Melbourne, Australia. Upon meeting in Stockholm in 2017, they began collaborating, playing live and quickly expanding into a 5-piece with the addition of Tommy Wilen, Marcus Wallberg, and Robin Zimmermann.
The Tell Me EP comes in on the back of a steady wave of success with their first three singles 'New Century', 'Want Friends', and 'Hollow Talk'. The new material was recorded and produced by legendary multi-Grammy, Gold and Platinum Award producer Thomas 'Plec' Johansson at The Panic Room in Skövde, a quiet country town in southern Sweden.
This collaboration allowed them to further refine and push their sound. On previous releases, they recorded in Los Angeles and Stockholm with Daniel Rejmer (Foals, Ben Frost, Girls Names), taking the heights of their previous releases to a new level.
""Tell Me" is an appeal for clarity – both personally and politically – in a setting where distrust and ambiguity appear increasingly to dominate people's relationships, both with each other and the broader world in general. It's about exasperation, about a need for a simple, straight answer – tell me, yes or no," says Therese Karlsson.
Tiny Fighter has become well know for their exciting live shows and good taste in blending catchy indie-pop with darker themes and arrangements. Sharon Van Etten, Cat Power, and Agnes Obel number among their influences, as well as Gyllene Tider, Mitski, Veruca Salt, and Kim Shatturk/The Muffs.
"After starting life as a duo, this is the first recording with a full band, and I think that's reflected in the stronger, fuller sound compared to our earlier singles," says Tim Spelman.
Tiny Fighter have grown from an artsy studio project to a full-fledged live band capable of selling out tours and filling larger music venues. Tiny Fighter completed a run of sold-out shows throughout Scandinavia and Europe in the summer of 2018, followed by a North American tour in November 2018.
Tiny Fighter will be returning to North America in May 2019 for a run of east coast and Midwest dates that includes stops in New York, New Jersey, Boston and many other cities, bringing all the dynamics and volume of their recorded material to the stage. They kick things off on May 6 in Toronto for performances during Canadian Music Week.
The Tell Me EP releases on April 26 via Stockholm imprint Bay Terrace Records. While it will be available across online stores like iTunes and streaming platforms such as Spotify, it can already be pre-ordered via Bandcamp
TRACK LIST
1. Tell Me
2. Where Are You Now
3. Katrina
CREDITS
Performed by Tim Spelman & Therese Karlsson
'Tell Me' written by Tim Spelman & Therese Karlsson
'Where Are You Now' written by Tim Spelman, Therese Karlsson & Tommy Wilen
'Katrina' written by Alex Jamal, Tim Spelman & Therese Karlsson
Recorded, produced and mastered by Thomas "Plec" Johansson at The Panic Room
Everything else by Thomas "Plec" Johansson
Cover artwork by Kyle V James
'Tell Me' video by Kyle V James & Mallori Taylor
Also check out two of their recent singles:
TINY FIGHTER
YouTube
Facebook
Instagram
Twitter
SoundCloud
Bandcamp
Spotify
iTunes
comments powered by