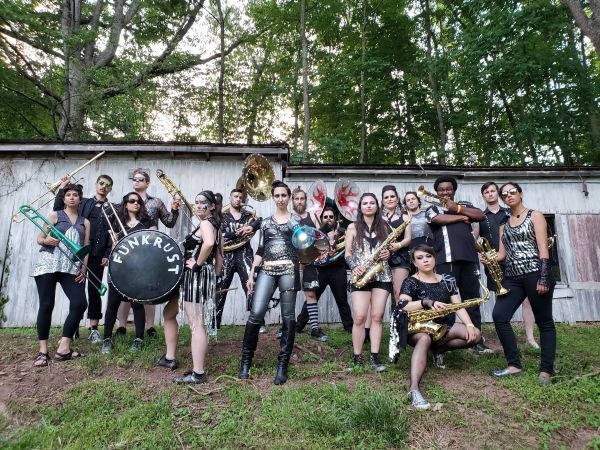 29 November 2019
Funkrust Brass Band – Photo courtesy of Funkrust Brass Band
NYC-based Funkrust Brass Band is a 20-piece post-apocalyptic disco-punk brass band playing all original music with megaphone vocals, heavy tuba bass lines, thundering percussion, and searing brass melodies. In Funkrust's new music video, "Terminus," a weary band of survivors crosses an urban wasteland, following a pirate radio signal broadcast by the voice of resistance against the forces of despair.
The Big Takeover is pleased to host the premiere of the vivid video for "Terminus." This video is the centerpiece of the band's multi-part recording and video project Bones and Burning (released on Nov 8th), which also includes two other music videos, a digital EP, and a 7-inch vinyl single.
Bones and Burning is out now on all digital platforms, with the vinyl available exclusively via Bandcamp.
Funkrust Brass Band, founded by composer/trumpet player Phil Andrews and lyricist/vocalist Ellia Bisker (Charming Disaster) mixes post-punk, disco, EDM, metal, and funk with Balkan brass and New Orleans second line sounds, and filters that through the medium of a massive street brass band with a punk rock sensibility.
Funkrust features trumpets, trombones, saxes, tubas, bass drums, snares, junk percussion, and megaphone vocals — all mobile instruments suited to a post-apocalyptic world where rock music needs no electricity.
The "Terminus" video is a fantastical journey through some of the most notorious underground and abandoned locations in New York. It was shot on Super 16 film in a production featuring 20 Funkrust band members and was produced by a crew of several dozen industry professionals including director Iain Marcks, award-winning cinematographer Jendra Jarnagin, production designer Sam Wilson (of Bread and Puppet/Boxcutter Collective), renowned mask-maker Darrell Thorne, and choreographer Billy Schultz.
The band put on a dazzling auditory and visual display in the video, dressed in post-apocalyptic gear and marching into the wastelands, which are filled with wilderness and run-down buildings.
They soon discover a secret and surreal area ruled by a queen who forces them into a majorly fun and spirited dance-off (well, not dance exactly, but a showdown between various members of the 20-strong band – horns Vs. drums).
"Terminus," the song and video, is bright and upbeat and offers up hope (unity and community) in a world that's slowly sliding into dystopia.
Website
Bandcamp
Facebook
Instagram