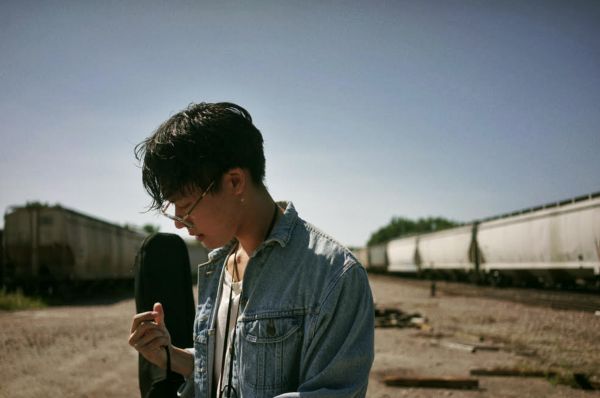 20 June 2019
A. harlana – "Textile Workers" video still
Brooklyn-based A. harlana is a collaborative musical project headed by musician/filmmaker Juno Roome. Mixing ethereal dreamscapes and Roome's airy, but hushed vocals, the songs of A. harlana cycle in diffuse waves of emotion, propelled by lush synths and reverb-laden guitars. Songs bring to mind early '90s ethereal music, while also carving a wistful, nostalgic atmosphere all their own.
A. harlana's latest release was the Ada Belle EP, which materialized this past January. They are now unveiling a series of singles and accompanying visual pieces, some of which will form their upcoming debut album.
The band has shot a long-form music video for their beguiling track "Textile Workers". The Big Takeover is mighty delighted to host the premiere of the video, which was directed and curated by Roome.
In the vdieo, Roome explains, "a wayward man, led by a scarlet fairy, is transported to a fantastical land." He also reveals that, "The video was shot on a 16mm with a bolex and animated completely by hand." Idyllic scenes on the dunes of a beach give off a summery vibe as the music and vocals waft through the video.
The pair dance playfully amid the graffiti-covered concrete rubble and share a glass of wine on the shore. But how long can this reverie last? The man is spinning in a heady haze one minute, but in the next, he's drowned in a disappointed daze as the daydream fades away…
A. harlana are gearing up for a nationwide tour this summer in support of new forthcoming music. Be sure to check out their socials for full tour dates.
Patreon
Website
Facebook
Instagram