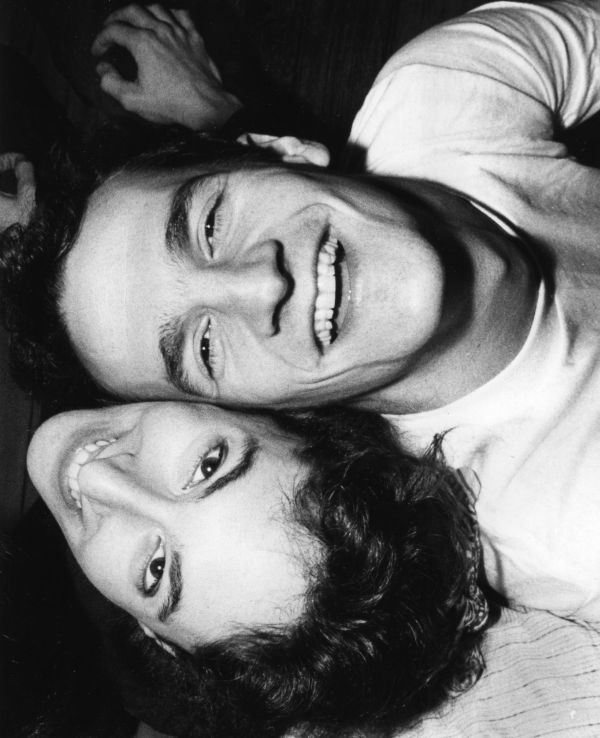 17 May 2021
The Cucumbers in 1980s – Photo Credit: The Cucumber
Big Takeover is pleased to host the premiere of the entertaining music video for "The Boss's Song," a track taken from The Desk Drawer Tapes, a collection of previously unreleased songs recorded by The Cucumbers from 1988 to 2005.
The band, started by Jon Fried and Deena Shoshkes, rose out of the '80s indie pop scene in Hoboken, NJ. The album is being released as a digital download June 4 via Life Force Records and will be available via streaming platforms HERE
"These recordings literally came out of my top desk drawer," says Deena. Like many others during the COVID lockdown months she turned to the long put off tasks of cleaning and organizing, "Instead of finding old papers and pencils to discard I found old recordings."
"There were cassettes and disks with tracks we'd nearly forgotten about, a bunch of them finished recordings, fully produced and some of them even mixed," says Jon.
The collection spans the eclectic styles the band explored over the years with a revolving cast of bassists, drummers, and others.
With drummer Yuergen Renner and bassist John Williams, the rhythm section on the outfit's 1987 eponymous release on Profile Records, they brought in a horn section and created quirky, danceable grooves that run through various tunes, including "The Boss's Song."
The music video is composed of brief clips from vintage found footage of various films, television shows (live action and cartoons), commercials, and other ephemera that feature "The Boss" at work. Whether it's giving directives to inept office drones, getting enmeshed in a plethora of phone calls, or battling with the computer, "The Boss" is depicted as having a short fuse, a big mouth, and total authority.
Jon sheds some light on the meaning of "The Boss's Song," commenting, "Most of the boss voices were done by friends at my day-job at the time. No one had any trouble coming up with material. I was a supervisor at the time I wrote the song. I think I was a decent boss, but I was still the boss."
"I think on some level we all feel like Charlie Chaplin (in his film Modern Times), stuck in the gears of the big machine. And there's no doubt that some have more power than others."
The recordings on The Desk Drawer Tapes document the band from 1988, when they toured nationally, through 2005, when they finally stopped playing regularly as a foursome. Deena went on to release several solo albums and singles, along the way writing several songs with Tennessee-based lyricist David L. Graham.
In 2010, Jon and Deena released SingSOS, an album of songs they co-wrote with lyricist John O'Neil about life with a son on the autism spectrum.
In 2016, the Cucumbers released Fake Doom Years, a digital remastering of their earliest vinyl-only recordings on legendary New Jersey label Fake Doom Records. One of those songs, "Don't Watch TV," was featured in the 2021 feature film The Little Things, starring Denzel Washington.
Jon and Deena have also released several singles, and Deena released "Some Days," a two-song single with the Poor Man's Opera in 2020.
Deena is currently working on an album featuring long-distance songwriting collaborations around the world as well as her experimental home recordings. Jon's creative energies meanwhile have gone into fiction writing. He has published short stories in several journals and zines, winning a literary prize along the way, and is completing a novel based on his colorful family history.
Together they currently play in the Campfire Flies.
John Williams and Yuergen Renner currently play together in the Los Traficantes del Amor – and the occasional Cucumbers reunion show.