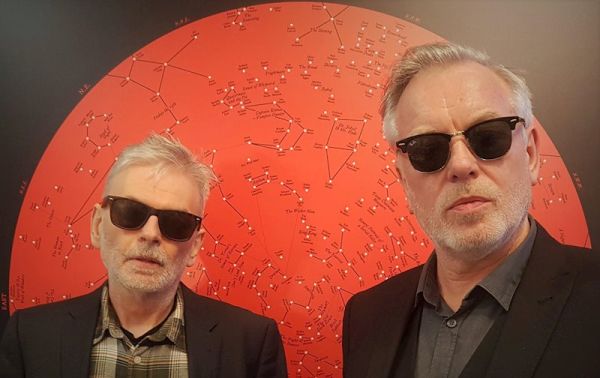 3 July 2020
The Room in the Wood – Photo Credit: Mark Sant Angelo
Liverpool, England-based pop-rock band The Room in the Wood released their latest album, We're The Martians, Now, via A Turntable Friend Records this past May.
This album offers 12 genre-bending tracks featuring core members and veteran musicians Paul Cavanagh and Dave Jackson, who are once again working together after a huge gap since their post-punk band The Room split back in 1985. This past year has been highly prolific for them, writing 30-plus new songs, putting out three releases, issuing four videos, and performing live.
The LP also includes ace drumming by Colin George Lamont (Mark Lanegan, Dave Gahan), charming flute by Simon James, and heavenly backing vocals by Helena Jacks. It was recorded and mixed by Steve Powell (Michael Head & the Red Elastic Band) at his Liverpool-based Ark Studios, and was mastered by Pete Maher (Barry Adamson, The Alarm).
This album follows their the band's sci-fi-inspired Mars EP' released in late 2018. Prior to this, the outfit bowed their debut album, The Room in the Wood, and the Magical Thinking EP earlier that same year.
Big Takeover is mightily pleased to be hosting the sharply, and rightly, pointed and socio-politically relevant video for the timely third single "The Earth Is Flat (Fool's Anthem)."
In this dark day and age we're being bombarded by outright lies, bullying, and destructive policies from the highest offices in the land (and not only in the US under Trump, but other countries as well), as well by the ignorant people who believe these lies and uncivilized tactics.
The abuse comes from Trump, a divisive, fear-, hate-, and violence-mongering megalomaniac acting like a dictator in the US who is proud he doesn't read, who covers up the facts and truth, who doesn't believe in science and education, who spews racist, misogynistic, and other abhorrent trash on a daily basis, who has undermined the very tenants of the democracy that is (or sadly, was) The United States of America.
It comes from all in his administration who perpetuate his lies and cements them into rules and regulations (or rolls back previous protective and safety measures) that leave most of the American public/individual (us!!) weaker and more vulnerable.
It comes from all of Trump's blinded-by-hate and -idiocy extremist followers, some (most?) of whom actually, unbelievably, do think the Earth is flat… That Trump is God, that they are 'great' at the expense of others, and that somehow they are better off under Trump's unintelligent and damaging thumb.
This potent video for "The Earth Is Flat Fool's Anthem)" from The Room in the Wood calls out Trump and these people in no uncertain terms. As singer Dave Jackson puts it, "[This is] an anthem for the virally ignorant, and self-confirming hive brain. How do cults of the terminally credulous and stupid arise? For the 5G conspiracy morons, the antivaxers, the worshipers of a President who lies before he thinks, and the idiots who voted a dissembling glove puppet as their PM because it made them feel more British. For those who take old books literally and do not understand what a metaphor is. For those who see a YouTube link and think they've stumbled on secret knowledge, and for those who exploit their willing self-important naivety."
Facebook
Twitter
Bandcamp
Spotify
iTunes