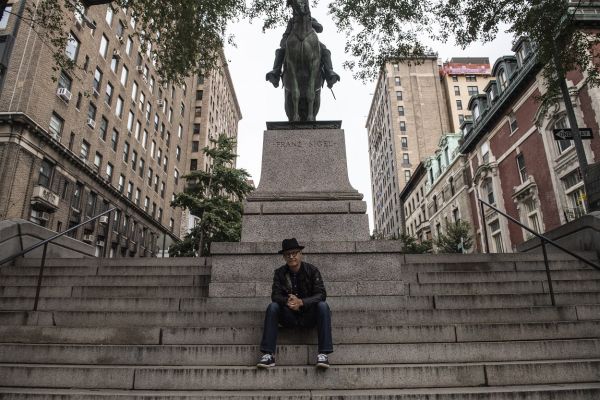 12 March 2019
Dusty Wright – Photo courtesy of Dusty Wright
Dusty Wright is an American singer/songwriter, pop-culture curator, and "metaphysical cowboy". He is also a former editor of the legendary music magazine Creem. His new album, Gliding Towards Oblivion, is the third installment in a trilogy of metaphysical ruminations about life, death, and love which started in 2011 with If We Never… (2011) and continued with 2017's Caterwauling Towards the Light.
The Big Takeover is pleased to host the premiere of a video for "The Man in the Mirror", the second single off Wright's latest LP. A pensive mood hangs over the briskly paced song. Wright sings straightforwardly, with a touch of regret to his voice, the pointed lyrics that document the destructive nature of the narcissist.
Dreamy guitar interplay is contrasted with a low bass line, shaken percussion, and a strict drum beat. In the video, Wright is shown playing guitar, looking directly into a mirror, and walking through the city streets. The video was co-directed by Wright and NYC-based filmmaker Matthew Dehoff, and Dehoff also edited it.
Wright reveals more interesting details about the origin of the song's meaning and how it morphed over time, commenting, ""The Man In The Mirror" is a song about narcissism. It started out as a political statement about our Commander in Chief and then morphed into a more personal observation about narcissists and their existential crisis. It's safe to assume that most performing artists have an excessive need for admiration, but this song attempts to drill down into the narcissist in all of us. A reminder that how you treat others will ultimately reflect upon you. And that your own self-importance can be crippling to everyone around you. Thus the line in the chorus — "…knew all along alone he would die.""
Dusty Wright – vocals, 6- and 12-string acoustic guitars, drum programming
Anton Oppenheimer – bass
Howie Halpern – drums and percussion
The song was produced by Dusty Wright; recorded and engineered by Dusty Wright and Martin John Butler at Strauss Park and Two Dog Studio, NYC; mixed by Brandon Wilde at Studio 86, Brooklyn; mastered by Alan Douches for West West Side Music.