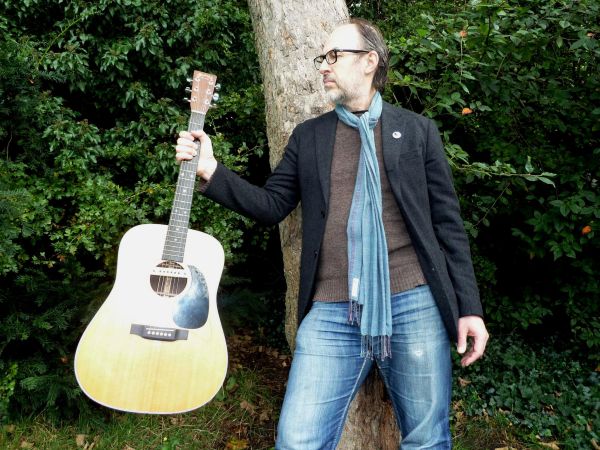 30 November 2021
Simon Bromide – Photo Credit: Ant Bradbury
All the way from London comes the new feel-good single (with glowing video) for one of our favorite artists at the moment, Simon Bromide. This London-based indie rocker (real name is Simon Berridge) is most commonly known as the frontman of London trio Bromide, but has ventured out on his own over the period of Covid-19 lockdowns and social distancing. Not one to doddle and someone who can be considered a prolific artist, Simon will be releasing his debut solo album next Friday.
Ahead of that, we have the pleasure of premiering the second brilliant taste from his new long-player. Called 'The Skehans Song', this is one of nine tracks that can be found on the 'Following The Moon' LP. Shot by Lou Smith and edited by Ben Pollard, this video recalls the fun so many of us miss from 'before the pandemic', as well as a sense of community.
That communal uplift is the order of the day, for this song and accompanying music video. "The Skehans Song" is a mellow-flowing tune with mellifluous picked and glinting guitar lines, earnest, yet relaxed vocals from Berridge, who sings that "the weekend's on its way" even though it's only a Wednesday night.
He's joined by a bevy of easy-going harmonies that make this song go down easy, like a sweet pint at the pub. Speaking of which, video looks to be shot in a venue or room of some sort with the tight-knit group performing the track and having a drink or two.
Recorded by Brian O'Shaughnessy (Primal Scream, My Bloody Valentine, Beth Orton), this album is being released via Scratchy Records (with distribution by Cargo Records).
And this is a track you must-hear, especially if you'd like to raise your vibrational frequency. Paying homage to one of South East London's longest running acoustic nights – 'The Easycome', a unique fixture in the South-London music scene, this song features the 'Easycome Choir' with Andy Hankdog, Scarlett Woolfe and Vincent Davies.
'The Easycome' is run by Andy Hankdog (a.k.a. Hank), whose life has been steeped in rock 'n' roll, starting with his father producing the 60s TV music show 'Ready Steady Go!'. After the Sex Pistols disbanded, Hank joined Steve Jones and Paul Cook to form The Professionals, later finding success with his band Hank Dogs in the late 90s and touring America with Joan Baez. Creating a space where music can flourish, his club has hosted the likes of David Gray, Florence (Welch) Machine, Shingai (Noisettes), The Smoke Faeries, Lewis Floyd Henry, The Fat White Family and other local scenesters such as Goat Girl, Pre-Goblin, Megalash and Misty Miller.
"In the 1990s, I used to frequent the Troubadour in Earls Court. This was my introduction to the curious sport of 'open mic-ing'. Not exactly a contact sport, but not far-off. The inevitable dread of waiting to play, the terrible acts, the amazing acts, the tap on the shoulder 'I'm sorry, we can't squeeze you on tonight', the tea lights, egos and hushed silence watching pins drop and/or your life slip away and then occasionally a room full of wild unexpected applause. I remember seeing Hankdog at these nights, who always mentioned 'The Easycome' but it was over the other side of town in Nunhead and I never ventured over. Then time took me over to SE London and finally about 5 or 6 years ago I started going down regularly on Wednesdays," says Simon Berridge.
"The idea for the song just appeared at the club one day when I started singing about some of the regulars.. then the chords arrived and it felt like a fun idea to write a kind of list song about these characters that went down to watch and take part. Similarly when we came to record it we tried to capture the atmosphere of a sometimes noisy pub with this thing going on in the corner."
The album also features drummer Fells Guilherme (Children of The Pope), bassist Ed 'Cosmo' Wright, multi-instrumentalists Dave Hale, Dimitri Ntontis and Stephen Elwell, folk-pop chanteuse Katy Carr on piano and Terry Edwards (Nick Cave, Tom Waits, P.J.Harvey) on trumpet. Scottish singer Julie Anne McCambridge joins Simon on the William Blake-penned 'Earth's Answer'.
This is Berridge's first output since Bromide's 'Ancient Rome' and 'I'll Never Learn' singles, both released in 2020. Their most recent album 'I Woke Up', with singles 'Magic Coins' and 'Two Song Slot', was met with popular acclaim, receiving positive reviews and airplay in dozens of countries. Since founding Bromide in 1996, the band has released six albums via London-based Scratchy Records.
As of December 3, 'The Skehans Song' will be available digitally HERE. On December 10, the 'Following The Moon' LP will be released on vinyl and digitally. It can be pre-ordered HERE and vinyl available via Cargo Records HERE
ALBUM CREDITS
All songs written by Simon Berridge except 'Earth's Answer' by William Blake, music by SB
Recorded at Bark Studios in Walthamstow by Brian O'Shaughnessy
Mastered by Jerome Schmitt at Airlab
Simon Berridge – vocals, acoustic & electric guitars
Fells Guilherme – drums & percussion
Ed 'Cosmo' Wright – bass guitar, acoustic guitar solo on 'The Argument'
Dave Hale – backing vocals, electric guitar, Hammond organ & Piano
Dimitri Ntontis – Hammond organ + mellotron
Stephen Elwell – sound fx on 'The Argument' & 'Earth's Answer'
Katy Carr – piano on 'The Skehans Song' and 'Reflections of Seating'
Terry Edwards – trumpet on 'The Argument'
Julie Anne McCambridge – vocals on 'Earth's Answer'
TRACK LIST
1. The Waiting Room
2. Chinua Achebe
3. The Skehans Song
4. Not That Type
5. The Argument
6. Slow Release Love
7. Following The Moon
8. Reflections of Seating
9. Earth's Answer
Also enjoy this brilliant video for lead track 'The Waiting Room', which was directed, shot, animated, modeled and edited by Ben Pollard.
Keep up with Simon Bromide
Website
Album order Link
Bromide Website
Facebook
Twitter
Spotify
Apple Music