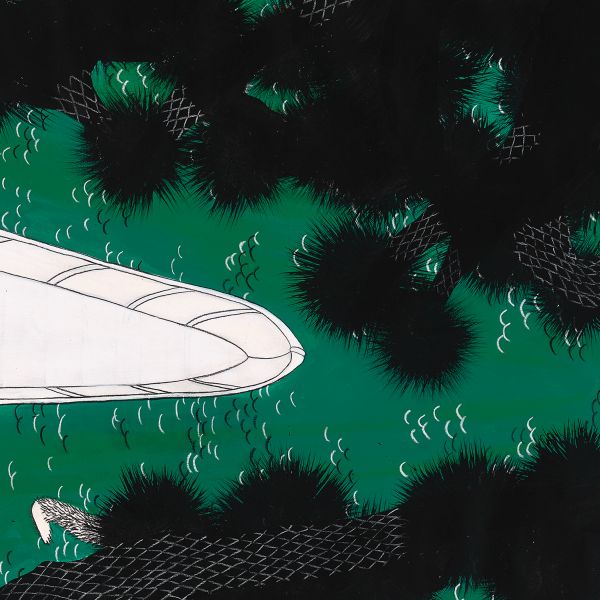 15 May 2019
Thee Hounds Of Foggy Notion by Thee Oh Sees
Renowned San Francisco-located rock band Thee Oh Sees have announced the reissue of their live performance album Thee Hounds Of Foggy Notion, which arrives on May 24th via Castle Face Records. It originally saw the light of day on August 25, 2008.
Along with it, the band will also drop their short film Thee Hounds of Foggy Notion / Live Performances Sans Stages And Whatnots With Thee Oh Sees, which is comprised of spare, lo-fi, but captivating live performance vignettes that were also captured on the album. The Big Takeover is mighty pleased to be streaming the whole 42-minute-plus film before its official release.
Thee Hounds of Foggy Notion / Live Performances Sans Stages And Whatnots With Thee Oh Sees was previously available only to those who bought the original album in vinyl format in 2008.
Director Brian Lee Hughes had the following to say about the performance video, "Thee Hounds of Foggy Notion / Live Performances Sans Stages And Whatnots With Thee Oh Sees (2008) is a film we made just over a decade ago, and the record is the soundtrack. I loved making it, and I love all that were involved. I'm honestly blissed-out proud to hear over the years that it somehow is loved by so many others, too."
"I first met John Dwyer on Flag Day. I was blown away by a trio of roving Coachwhips guerrilla street shows that climaxed at the the scenic vista parking lot high above San Francisco atop Mt. Sutro. Amongst the gathered uninitiated hordes… was the sonic corruption of the Coachwhips that was collaborating with the all-female, fake-pregnancy, jump-rope-y, real-pit-bull-shredding-fake-plastic-baby fantasy majesty of the performance artist crew Double Dutchess. I'm certain that this exact event was the idea seed for Thee Hounds Of Foggy Notion…."
"When JPD asked me to consider making a video for Thee Oh Sees with the sole stipulation that he didn't want to do anything fake-y to playback, my head started swimming. What we mutually agreed upon was to essentially reprise Flag Day, and film Thee Oh Sees performing live, but not on stages."
"I rented a 15-passenger van, a generator, and the minimal cinematic equipment my trusted cinematographer friend James Wall deemed we needed. As great as JPD is as a live performer, he was in absolute alpha epic story-teller genius mode during every single spare second of the journey. Brigid Dawson added some delicious gems as she always does. Petey Dammit is a pretty quiet private guy, but even he proved to be very funny when he gets loose. Patrick Mullins on the other hand is literally Castleface. After editing through 40+ hours of footage of live performances and interstitial stories, it became very shockingly clear to myself, and editor Akiko Iwakawa, that his expression never ever ever changes. He is Castleface incarnate."
Thee Oh Sees also recently announced a run of Fall North American tour dates. Check out where they are playing below, and also check out their forthcoming Spring/Summer shows that includes Solana Beach. They just played the Shaky Knees Fest in Atlanta, GA.
May
18 Manchester Albert Hall
19 Glasgow QMU
20 Belfast Limelight 18-20
21Dublin Button Factory
23 Cardiff The Tramshed
24 Derby Bearded Theory Festival
June
7 Nelsonville, OH Nelsonville Music Fest
14 Solana Beach, CA San Diego Belly Up
W/ Bronze And Fuckwolf
July
11-13 Carnation WA Timber! Festival
August 9 Pioneertown, CA Pappy and Harriet's
23 Charleville Cabaret Vert festival
24 Guéret Check-in Festival
27 Ravenna Hana-Bi (Free)
29 Vienna Arena
30 Munich Strom
31 Berlin Kreuzberg Festsaal
September
1 Brussels Les Botaniquesen
3 Bordeaux BT 59
4 Toulouse Le Bikini
5 Paris Le Bataclan
6 London Troxy
7 Amsterdam Paradiso
30 San Francisco The Chapel
October
1 San Francisco The Chapel
2 San Francisco The Chapel
4 Portland Crystal Ballroom
7 Vancouver Rickshaw Theatre
10 Minneapolis First Avenue Ballroom
11 Chicago Thalia Hall
12 Chicago Thalia Hall
14 Toronto Danforth Music Hall
15 Montreal Le National
16 Cambridge The Sinclair
18 Brooklyn Warsaw
19 Brooklyn Warsaw
20 Brooklyn Warsaw
22 Philadelphia Union Transfer
23 Carrboro Cat's Cradle
24 Nashville Mercy Lounge
25 New Orleans One Eyed Jacks
26 Austin Hotel Vegas
27 Austin Hotel Vegas
29 Albuquerque Sister Bar
31 Los Angeles Teragram Ballroom
comments powered by