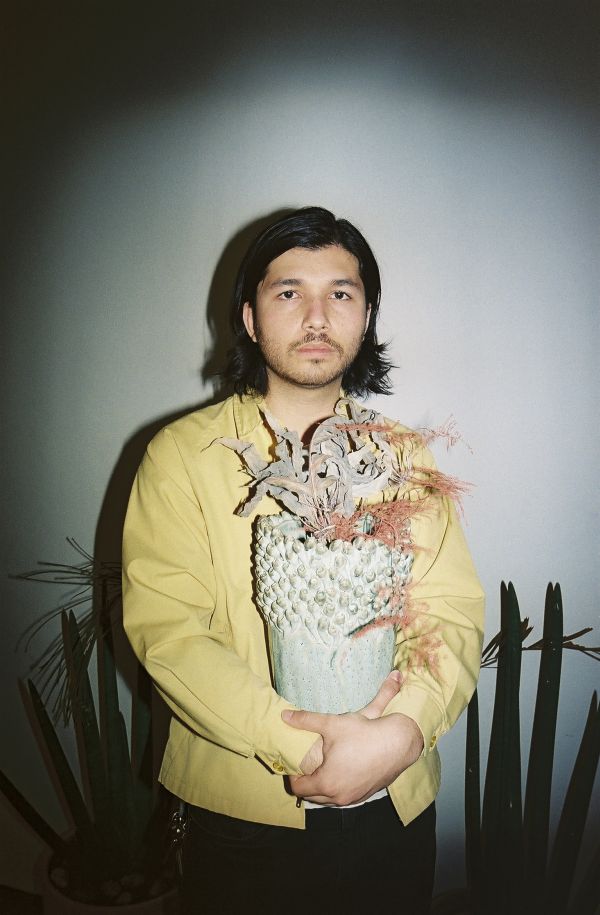 20 January 2021
Kaz Mirblouk – Photo Credit: Jeff Fribourg
Today it is our pleasure to premiere the new music video for "Title Sequence" off of LA-based Kaz Mirblouk's new album Careless By Contrast, which is out today.
The mesmerizing, shoegaze-inspired song opens with a flurry of jangly guitars, droning bass line, measured drum beat, and hazy and dispassionately murmured vocals. The spiraling verses build tension before clashing into vividly planing and fiery chorus sections, and eventually drift into a psychedelic outro.
The video clip features Mirblouk and his band performing against a white background overlaid with footage from a thermal camera; the group poised stoically in high contrast to the surrounding saturated colors and the song's widescreen energy.
It's a thrilling introduction to his excellent second album, which takes elements of shoegaze, grunge, psych, and even Krautrock, and distills them into dynamic songs, at times intimate and hushed, at others overdriven and saturated, but always with room for a rhythmic interlude.
In pre-pandemic times, Mirblouk kept busy performing around LA as a member of post-punk bands Hooveriii and Numb•er, his own project taking the backseat while he hit the road in a supporting role.
Now, pulling from a collection of songs written on and off over the last few years, and enlisting the production help of Louis Cohen, he's releasing a 10-song collection on Mock Records.
Album highlights include the propulsive track "Borderline", which would sound perfect coming off the stage at Desert Daze, and the Alex G-reminiscent single "Dozer," whose bedroom pop verses blossom into a full blown chorus.
Check out the single below, and order the album from the label at Bandcamp
On the making of the video, Mirblouk comments, "My friend, Travis Waddel of production company Oblique TV, did a music video for us with Numb.er in 2018 and ever since then, I've wanted him to do one for me. After years of back and forth between our busy schedules, I finally sent him this song. It's one of my first music videos for this project and I've always wanted to make one of those over-the-top performance videos that you'd have in the '90s."
"Visually they felt like a weird dream, but were also reminiscent of the public access performances from the '70s and '80s with green screens behind the band with cheesy overlays. Travis sent me some French post-punk music videos that looked like one of the AV cables providing the color was breaking while converting the old footage to digital. The combination of the film degrading over time while being digitally converted lead to some accidental and spontaneous moments that we both loved."
"Travis came up with the idea to simultaneously shoot the video with an inverted thermal cam that we could overlay the raw footage, providing unique visual moments throughout the performance. This video came together organically because I got to film with some of my closest friends and bandmates, each of which also contributed to the record."
Kaz Mirblouk
Bandcamp
Instagram
Facebook
Mock Records
Bandcamp
Instagram
Facebook