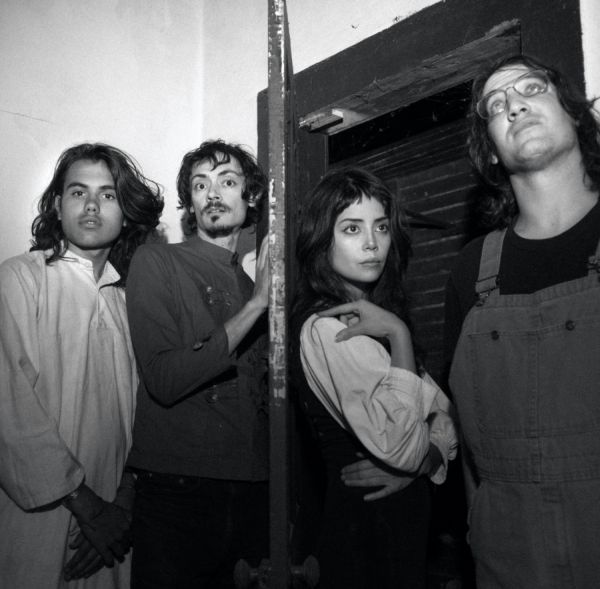 27 July 2020
Immaterial Possession – Photo Credit: Ben Rouse
Athens, GA-based dark pop/art rock band Immaterial Possession is a mistily noir, psychedelic, and theatrical outfit that will be releasing their debut self-titled full length on July 31st via Cloud Recordings.
The band draws inspiration from many sources including surreal and abstract theater, DIY post-punk, dark pop, and Mediterranean '60s folk. Their upcoming album falls right in line with the highly creative, rich, and diverse Athens, GA scene associated with Elephant 6's John Fernandes (Circulatory System, Olivia Tremor Control, Cloud Recordings).
Madeline Polites (guitar, vocals), Cooper Holmes (bass, vocals), Kiran Fernandes (keyboards, clarinet, woodwinds), and John Spiegel (drums, aux percussion) go on an experimental and hallucinatory journey on Immaterial Possession, one that traverses genres and mindsets in search of, and finding, the the mysterious and mesmerizing.
The band was formed by Holmes and Polites, who share a history of the underground DIY Atlanta music, theater, and arts scene. The duo moved to Athens and was soon joined by seasoned drummer Spiegel, and eventually Fernandes, a descendant of Elephant 6's beloved John Fernandes.
On their entrancing debut LP, all members bring forth a spectral hue unique to the ear, with Holmes and Polites providing dual vocals. Immaterial Possession is as much a visual journey as auditory. With Holmes, Polites, and Fernandes all sharing ties to surreal and abstract theater, each song on the album creates a distinct 'world' of impression and intrigue.
Big Takeover is pleased to host the premiere of the captivating video for "Tropical Still Life," an dreamy meditation from the album. The band explain that the song is, "[an] exploration of the power in finding animation in an object, or a still-life, and using that insight to shake the self from the stillness in a void; traversing self-preservation in a relentlessly defeating world."
The music video was directed, shot, edited with Practical FX by Jason Thibodeaux,with fabrication done by "at" TheHandAndTheShadow, and produced by Thibodeaux, Sarah Frechette, Gabriel Temme, and Holmes.
The alluring clip was filmed in Savannah, GA and Portland, OR, but radiates an otherworldly vibe that transcends the here and now and of known locales. Instead, the footage is steeped in the golden glow of another/bygone time
The band members' silhouettes are hazily bathed in suffused sunlight as they languorously plays their instruments and sing, all while mystical images flit by of a shaman gesticulating enigmatically in the wilderness, their face hidden by a shining mask and shadowy headdress…