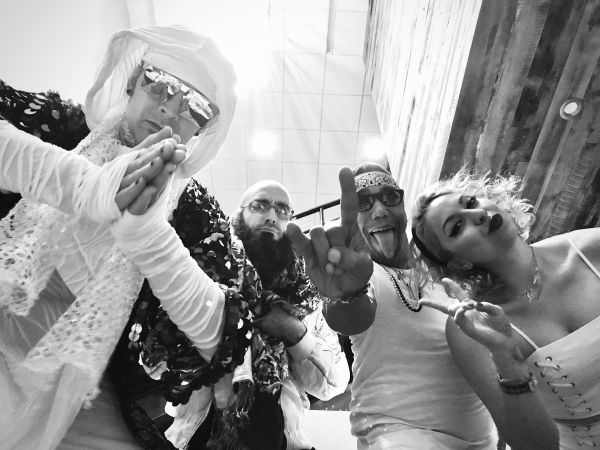 14 October 2020
Freekbass – Photo Credit: Angie Wilson
A brand spankin' new track by renowned bass guitar master and funk aficionado Freekbass was just released on October 9th. The raw and funky "Under Krameria" is an ode to funk greats of the past, like Mandrill and Graham Central Station.
Freekbass is one of the world's great bass players. He has been on the cover of Bass Musician Magazine and Bass Guitar Magazine/UK (three times), and has been featured in Bass Player Magazine numerous times.
He has hosted master classes at "Bass Player Live" (in Los Angeles and New York) and "The London Bass Guitar Show,"
He has worked alongside funk legend Bootsy Collins (who gave him his nickname during a studio session), who called Freekbass "The New Spritual Warrior for the Funk", as well as keyboard icon Bernie Worrell, who guested on many of Freekbass' albums and live projects.
The Freekbass sound is rich with danceable and infectous grooves, brought about by a wealth of collaborative musicianship, and channeled into energetic non-stop performances. Quite simply, this is a show. Freekbass has released eight albums to date, which his latest release appearing via Color Red.
Freekbass has been collaborating with Color Red since November 2018. Color Red is a music discovery platform and record label founded by Eddie Roberts of the international funk group, The New Mastersounds. The premise of the platform is to release quality, original music that spans musical styles.
The artist's first release on Color Red was All the Way This. All the Way That, which came out in May 2019 and was produced by Roberts. "Under Krameria" is the third single of four tracks that will be compiled into an EP. That platter, also produced by Roberts, will come out next month.
Freekbass and his crew, The Bump Assembly (Sammi Garett of Tukuaz on vocals, Rico Lewis on drums (formerly of George Clinton & Funkadelic), and Sky White on keyboards), are dropping an accompanying video for "Under Krameria."
Big Takeover is stoked to host the premiere of the performance video for sizzling-cool instrumental "Under Krameria" today. The outfit have gotten extra-creative during this time self-isolation/lockdown by utilizing their remote production skills.
The music video showcases Freekbass, White, and Lewis playing their instruments with passion as they remain separated from each other in the middle of a deserted warehouse.
The stark industrial setting of riveted steel girders, railings, and fences is off-set by inserted footage of Garett, who appears as a larger-than-life figure in vividly saturated colors. She scatters flower petals and brandishes a watering can, sprinkling outsize drops of water onto the performers and building, adding an amusingly surreal touch to the clip.
Freekbass' team explains the concept behind the video for "Under Krameria," explaining, "[It] features Freekbass, Sky, and Rico giving an instrumental performance of the tune, cloaked in somber, muted colors. And though this is an instrumental, Sammi is still part of the big picture. We cut to Sammi who is dressed in techno-color retro attire, leaning over the miniature size warehouse, herself being bigger than life."
"She blows flower pink (Kremeria) petals from her hand, and we see gigantic petals falling amongst the band. She smiles as she lifts her bright yellow watering can and water flows out – then we cut to see rain pouring inside the warehouse on the band. So even though she's not singing on this track, she's a big, colorful part of the video. And we get a first look of the band playing together since Covid hit."
Website
Facebook
Twitter
Instagram
YouTube
SoundCloud
Spotify