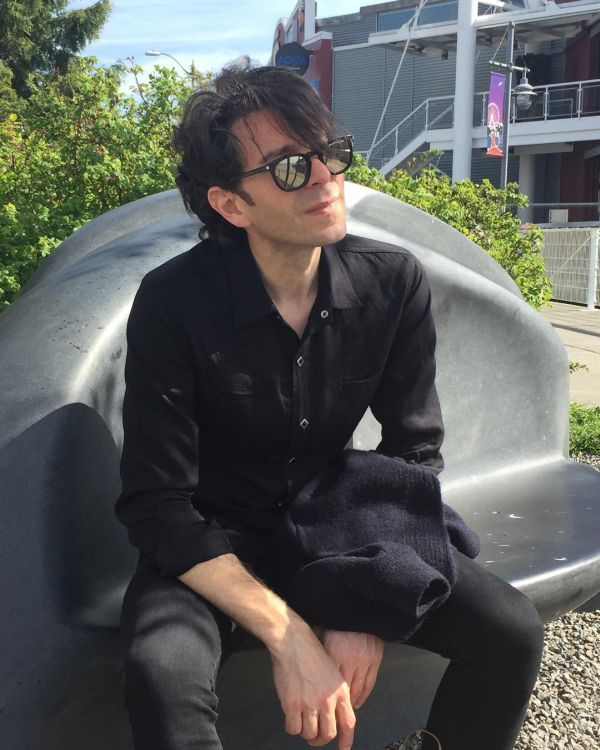 8 August 2019
Michael Shunk of Blue Glass – Photo courtesy of Michael Shunk
Seattle-based post-punk/New Wave band Blue Glass dropped their latest album Pale Mirror this past spring. Led by Michael Shunk of the indie group Transient Songs, Blue Glass encapsulates how the Pacific Northwest absorbed post-punk and formed its own roots in this music genre.
The romantic and noir facets of post-punk mingle with the brightness and energy of New Wave and synth-pop on Pale Mirror. The LP was recorded in the wintertime during a period of isolation and self-reflection on Shunk's part. It was mixed to tape at legendary Earwig Studios in Seattle, with mastering by veteran Levi Seitz at Black Belt.
Shunk was raised in the Midwest and has resided in various locales along the West Coast, but he finally settled in Seattle. The natural and urban spirit of this city has informed Shunk's mindset and musical output. The band is named after the vast waters of the Puget Sound, after all, and 'pale mirror' refers to the Pacific NW in winter.
The Big Takeover is extremely pleased to host the premiere of a new video for "We Loved the Rain", an angular to drifting cut off of Pale Mirror. The video was filmed in and around the Ballard neighborhood of Seattle. Shunk directed the clip and was assisted by John Gow at LiveEye TV, who edited and produced the video.
Against the staccato-paced to drawn out, synths-touched sonics, two wandering characters in raincoats are followed by the camera from behind. Their ramblings are intercut with images city walkways and buildings on the verses and wilderness (pine trees, cloudy skies) on the dreamier chorus sections.
Shunk gives some details about the backstory of the video, revealing, "The video is meant to portray a Chris Marker documentary style of sorts. The two subjects are both following and being followed throughout an industrial neighborhood under a moody sky. The idea for the video hews, in a metaphorical sense, closely to the song's lyrics which are about the protagonist's ability to maintain his perspective in the depths of a long winter. Fevered and restless, he pursues a dream of escape, but cannot get beyond the reach of his surroundings and finds himself in an endless cul-de-sac of disorientation and repetition, unable to break through the gloom."
Pale Mirror is available on vinyl from ORG Music
Facebook
Twitter
Instagram
Bandcamp