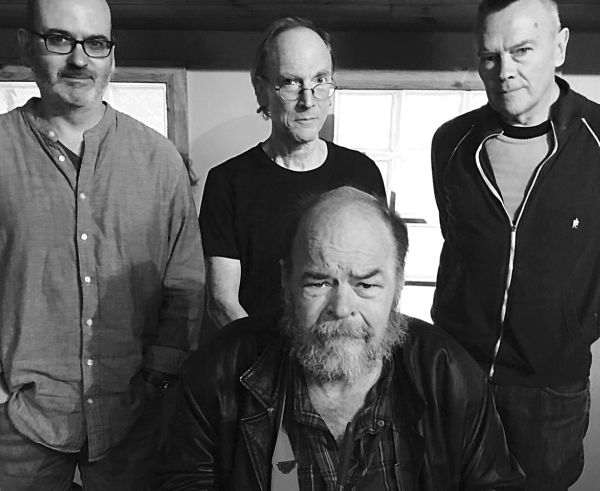 14 June 2019
Pere Ubu – Photo Credit: Kiersty Boon
Veteran experimental art-rock outfit Pere Ubu have returned to the musical fore once again with a new album titled The Long Goodbye, which arrived June 12th via Cherry Red Records. The LP is actually more like a new introduction to the band because they take on a different stylistic direction this time around by delving into the pop realm.
Founder and frontman David Thomas comments, "I'd been listening to commercial pop radio non-stop for months. That's what I wanted to rewrite and reimagine. Pop music shouldn't be without meaning or truthfulness." He and his bandmates provide that on tracks that search for salvation and dig into the gritty reality of life.
The Long Goodbye contains a wide expanse of synths due to Thomas writing and arranging the songs alone with his private collection of drum machines, synthesizers, and even a melodeon. He then sent out his compositions to the other musicians in Pere Ubu's extensive fold, with the invitation for them to take it on and make it more multi-faceted.
Robert Wheeler and London-based producer Gagarin took up the challenge and embedded complex electronic dimensions, while Peter Jørgens' outré percussion adds a tribal element. Guitarists Keith Moliné and Michele Temple, along with clarinetist Darryl Boon, complete this unique musical fusion.
The Big Takeover is highly excited to be hosting the premiere of Pere Ubu's video for the album track "What I Heard On The Pop Radio." The song has taken on the direction that Thomas put to the band's musicians. He called on them to make their contributions the "essence of the song rather than to see themselves as playing a 'part'."
In the disorienting video (that mirrors the off-kilter music), which was created by Kiersty Boon, several visual layers are overlapped while streaming, all radiating a burnt orange glow. There's the still image of the front of a cassette/player radio and then continuous footage of a radio satellite sweeping back and forth, picking up transmissions.
On top (or under?) that view is a parade of various clips of everyday scenes and objects, from cityscapes, roads, and traffic to street signs, flowers, and a clock. Lastly, Thomas makes an appearance throughout the video, and bookends it in animated form as he drives along, asking someone unseen whether they too hear the buzz…