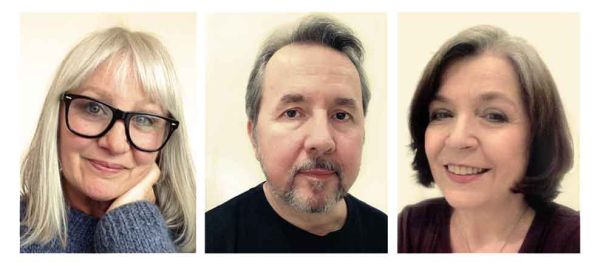 19 June 2020
Seven Ash Green – Photo courtesy of Seven Ash Green
Seven Ash Green is a UK-based collaboration between 13 Frightened Girls founder members Sumishta Brahm and Keith Williams (ex of Stephen Street's Foundation label) – and singer-songwriter Heidi Berry, who released five solo albums to critical acclaim on UK indie labels Creation and 4AD. Multi-instrumentalist Williams arranged and produced the song, contributing his fine instrumental skills on guitar, bass, and drums. Brahm and Berry's interwoven close vocal harmonies are a key feature, with Berry also contributing keyboard to the mix.
Seven Ash Green's debut is a cover of a song by John Andrew Fredrick of Los Angeles dreampop/indie pop group the black watch. Big Takeover is pleased to host the delightful video, which was recorded in self-isolation, for the charming and tuneful track. Berry, Brahm, and Williams perform the song with direct and tuneful sincerity, all together musically even though they are physically distanced.
Fredrick reveals, "Sumishta and I have been great friends for many years now—and ever since I first played this song at the old 12 Bar Club in Denmark Street, she's threatened, as it were, to cover this song of ours from the Tatterdemalion LP (2006) for at least a decade, and recruit her dear friend Heidi Berry to sing it as a duet. Imagine my surprise when it hit my inbox. Nice, good things do come from quarantines, it seems! It's one of the most touching things that's ever come my way."
"The duo's joined by Keith Williams.. I really love what these guys did with the song. I prefer it to our rendition, in fact! Honestly. I wrote (the song] about my hometown, Santa Barbara, CA, and how it's so different from how it was when my backyard really was an orange grove."
"Where There Were Orange Trees" is slated to be released as a digital single soon on Germany's venerable A Turntable Friend Records.
A Turntable Friend Records Bandcamp
Seven Ash Green Bandcamp