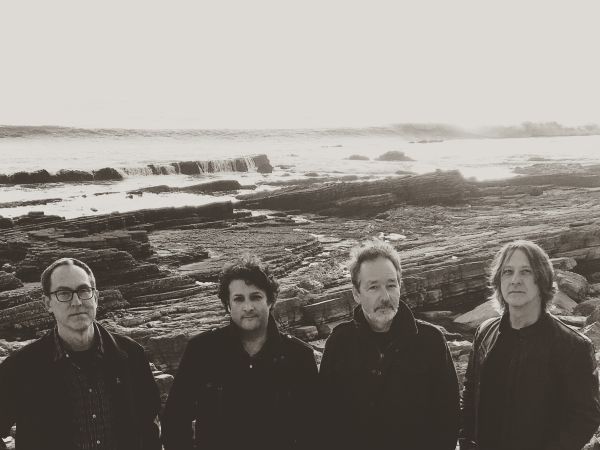 8 April 2021
Les Biches – L – R: Kevin Pinnt, Chris Candelaria, Keith Joyner, Dusty Starr. Photo Credit: Sean Fawcett
Following last summer's well-received Gentlemen Sailing into Darkness, Los Angeles-located space rock quartet Les Biches (lay-beesh) returned on January 15th with the 4-song EP You the Obscure, out via their own imprint Commercial Suicide Recordings.
The EP features the single version of the title track that recalls to mind classic alternative guitar rock of a bygone era mixed with a 21st century spin on the post-punk genre of the late '70s and early '80s.
The song was mixed by longtime collaborator Jack Atlantis and was actually the second single from Gentlemen Sailing into Darkness, but it's now become the centerpiece of the You the Obscure EP.
Les Biches began as an open-ended collaborative project whose sole constant member was Keith Joyner, but the band expanded and evolved and now includes Chris Candelaria (bass), Dusty Starr (guitars), and Kevin Pinnt (drums).
The band members have a shared history that encompasses other outfits, including now-defunct Revolux and Chihuahua. In addition to the groups noted above, members of Les Biches have played in The The, Caterwaul, and Seven Simons.
Big Takeover is pleased to host the premiere of the atmospheric performance music video for the pensively dreamy "You the Obscure."
The video clip was directed by Kevin "K-Tel" Pinnt and edited by Noah Pinnt. The atmospheric performance recounts a pervasive anxiety derived from forced domestic captivity at a pivotal moment in history.
Soundtracked by the song's existential plea for significance in an era of short attention spans and cheap social platitudes, the scenes were shot by each member of the band in his respective lonely corner of Los Angeles.
Enshrouded in deep shadows and shot through with brilliant white light, each member plays his part in the sporadically illuminated gloom.
An overlay of other footage is recurrent, from images of pine tree tops to objects in a room. The blinding light morphs into bright hues, starting with infra-red glow and shining yellows and moving to indigo blue and ultraviolet tones.
Website
Facebook
Bandcamp
Spotify