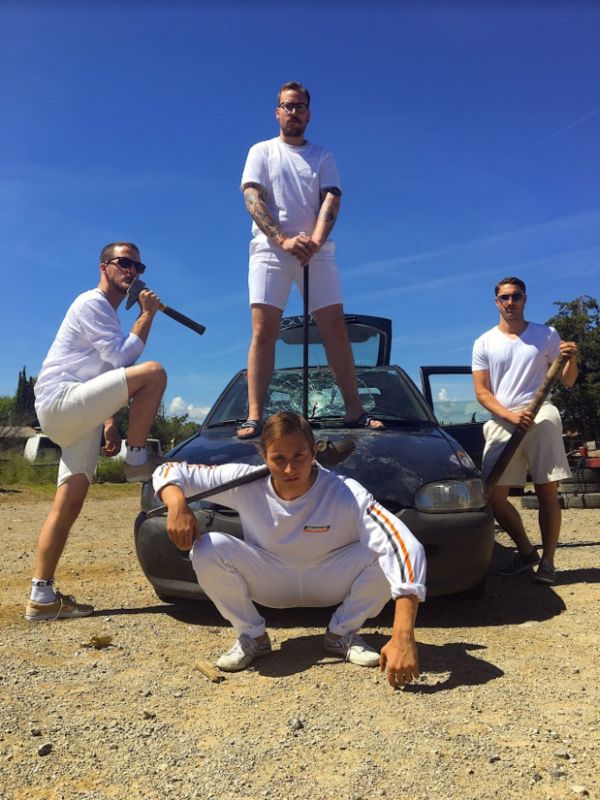 27 September 2018
Manta Youf – Photo Credit: Florian Brändli
The first thing that comes to mind when hearing the name Manta Youf and their new single entitled "llover "is that this could be a warm, juicy, reggae-tinged morsel. To be fair, it's been hot and sunny in many regions where it's summer, so it's easy to drift off to some remote beach where the sand is soft and white and the palm trees sway in a cool breeze, and envision some laid-back tunes to go with that setting.
But instead of a soothing, lover's rock-type jam, what comes out of the speakers is an enticing slice of really energetic, catchy, neon-colored electro-pop, which, actually is the perfect vibe for a summer of fun.
"llover" is one of those tunes that makes you want grab all those papers that have been piling up on your desk for days and just throw across the room. That is, of course, if you are an office drone. It makes you want to jump on top of your desk and kick off the computer screen with style and grace – and then dance your derrière off!
Since we're already on this escapist daydream trip, why not take it the whole nine? Because the video for the single is all about escapism. And guess what else? There are aerial shots from beautiful coastal locations in it as well! The video is the work of Prisma Films, who are based in Spain, and it has that stylish look that hints at the fact that these fellas just might be into Metronomy, at least just a little bit.
Manta Youf will be releasing their debut full-length entitled Vol. 1 February of next year. In the meantime, The Big Takeover is pleased to host the international premiere of their first single.
comments powered by