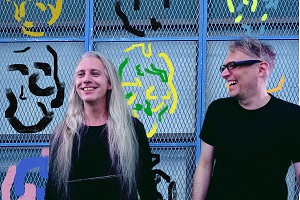 26 April 2022
One of the finest records released so far in 2022, Post- is a collaboration between two stalwarts of twenty-first century contemporary classical music: pianist David Friend and composer Jerome Begin. It's merely one person playing the other's music, however. Instead, Friend performed Begin's pieces while the latter added live electronics pulled from his sound library, giving a modern sheen to a suite of songs and ground it in both musicians' interpretation of this modern life. As we put it in our review of the record, "the pair's blend of acoustic hammers on strings and electronic firing synapses gives Post- its distinctive aesthetic, all in tribute to the embrace between digital technology and analog life."
Today, we're proud to premiere the video for lead track "These patterns," a thrilling combination of piano gymnastics and white noise. The visuals were created and directed by videographer Yiseul LeMieux, a Korean-born artist living in New York City whose work transcends disciplinary boundaries, often bringing together components in numerous media to create vivid narratives and alternative realities. Her work often has a special focus on direct audience engagement and community feedback, and her disinterest in conventional boundaries between various media, between the artist and the viewer/listener, and the creative and receptive process are a part of her larger creative vision. She locates herself within a global network of entities — a world of unconventional interchangeability and a rejection of assigned values. This ethos of interchangeability allows her to explore the infinite potential both of herself and of the entire world around her.
LeMieux grew up in a rural area before moving to Seoul and eventually to the United States. Starting out with studies in classical piano and jazz, she eventually began composing her own music before expanding her artistic practice into the broader vision it embodies today. She studied music at North Texas University, McNeese University, and Louisiana State University, and most recently received a masters degree from the New School in New York City, where she focused on multidisciplinary projects. Her recent work includes multimedia installations, live performance, immersive exhibitions, graphic and textile design, and experimental playwriting. Her current collaboration with David Friend and Jerome Begin is a multifaceted response to the musicians' electroacoustic music for piano and live processing, creating a visual narrative across multiple visual, wearable, and time-based components.
"In developing 'These patterns,' I spent quite a lot of time researching and studying their faces and figures, and I find myself still trying to discover something new from their faces when we meet in person," LeMieux explains. "I started this project by drawing simple outlines of their side facial profiles and then frontal profiles using different techniques, pencil sketching, carving, stamping, paper modeling, and others. Working with Jerome and David, their sounds and musical ideas definitely inspired me to explore and expand my own practice and skill. Now, after finishing the project completely, I want to say I know both of them on a different level."
Post- is available now.