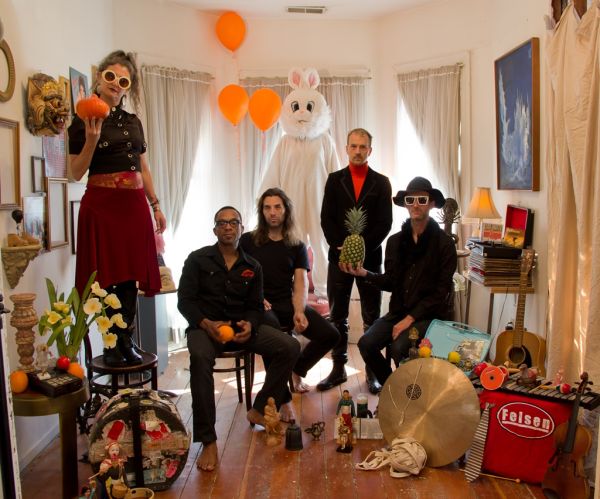 26 January 2018
Felsen – From left to right: Dara Ackerman, Bryan Bixby Dean, Rob Tucker, Scarth Locke, Andrew Griffin; Photo Credit: Stephanie Williamson
The new album from Californian indie pop/rock band Felsen, Blood Orange Moon, delivers a new telepathic message through melody and lyric beamed directly from their late-night West Oakland studio. There the band's grudge match takes place between analog synth and cello, acoustic guitar and Reagan -era drum machine, glockenspiel and fuzz box, reverb and tremolo, loud and just quiet enough to hear the gong shimmer. It was mixed by Allen Clapp (The Orange Peels) and comes out January 28th via Mystery Lawn Music.
The songs on this fifth Felsen release were written in the fall of 2014/winter of 2015, reflecting on earlier events in 2014 by Felsen's frontman Andrew Griffin who is an 11-year cancer survivor.
Inspired by a Rolling Stone review of George Harrison's, All Things Must Pass. Griffin was also greatly under the musical spell of Beck's twin albums Sea Change and Morning Phase, as well as Songs for a Blue Guitar by Red House Painters.
For this album, Griffin started a branch of the Felsen family tree, playing with a few new faces and a few old ones, incorporating cello, glockenspiel, synth, acoustic guitars, and hand percussion–a bit of a departure from the electric guitar-heavy music of previous of Felsen albums.
This will be the first vinyl LP that Felsen has produced. Griffin relates, "Blood Orange Moon is really intended to be listened to on LP from start to finish, digested in one sitting. We wanted to make it really fun to look at as well. Search for all the hidden clues on the album Jacket and read along with the lyrics!"
The current line-up of Felsen includes 4 Non Blondes guitarist Roger Rocha, former bassist with A Band Called Pain, Bryan Dean, drummer Robert Tucker of the Metallica album Jason Newsted's Chophouse Band, and backing vocalist Dara Ackerman.
Blood Orange Moon is about direct (and indirect) communication, desire, loss, cutting through the BS, wanting to be with you, and wanting to sing right into your ear. The tunes kinda sprawl out more and take more time to unfold. It's music for headphones or late night car drives. So take a reflective and captivating trip with Felsen…
Bandcamp
Facebook
Twitter
SoundCloud
Spotify
comments powered by