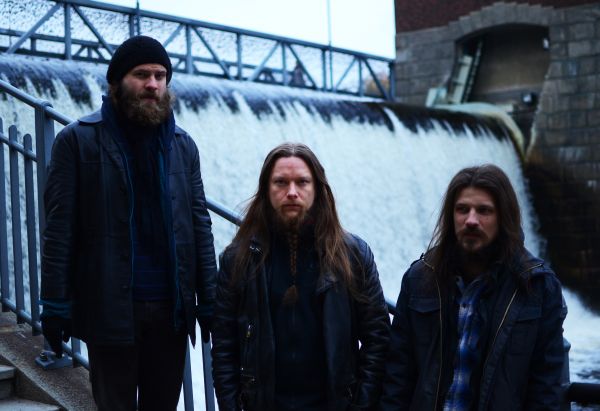 27 January 2017
Rückwater; Photo Credit: Jarkko Metsälammi
The band is Rückwater, a three-headed stoner rock monster hailing from Tampere, Finland. The record is Bonehead EP. Heartfelt lyrics, strong tunes, two ass-kickin' lead singers, and the boogie that varies from furious to mellow makes this record worth listening to.
The story of Rückwater started in 2010 when the loudest men in the band, Make (vocals/guitar) and Jussi (vocals/bass) hit their stone-heads together. Make's brother Jape was a natural choice for drums; after all, the brothers have played together for years.
The idea was to just play some covers (Alice In Chains, Pantera, etc) and have a good time, but after few jam sessions, they were already creating some of their own songs. Playing together just clicked in a natural and groovy way. In 2011 band went to studio to record several songs compiled as the So far Out sessions. When the band members' other music projects went on hiatus or ended, Rückwater kept on going forward. In the year 2013 the band recorded their second EP What´s In The Box?.
In early 2016 they began to record its third EP, Bonehead. It was recorded live like the first EP. Recording live is the most natural thing for the band; to catch the essence of Rückwater. It makes the record feel more raw, real, and dynamic. Frustration about almost everything is maybe the main source for the whole record; it can be heard in the lyrics and the way the band plays.
The band states, "After the EP is released, our intention is to play as many shows as possible and spread the message of Rück & Röll. Later this year, we begin to record our debut album, and hopefully get to play some shows abroad also."
Facebook
Twitter
Secret Entertainment Finland
comments powered by