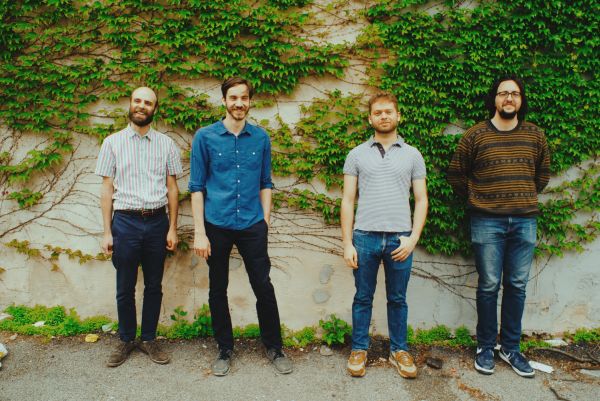 7 September 2018
The Chairman Dances – Photo Credit: Bob Sweeney
The Big Takeover is proud to premiere the new album from Philadelphia-based lyrically driven indie rock band The Chairman Dances a day before its official release on Black Rd Records. Child of My Sorrow was recorded live with engineer Daniel Smith (Sufjan Stevens, Danielson) and features contributions from over a dozen players on instruments ranging from saxophone, Wurlitzer, and glockenspiel to lap steel and analog synthesizer.
Frontman Eric Krewson alone can be credited for vocals, electric and acoustic guitar, trumpet, analog and FM synthesizers, piano, organ, Mellotron, vibraphone, glockenspiel, electronic drums, percussion, violin and cello arrangements, saxophone arrangements, and field recordings. He's joined by his bandmates Dan Comly, Dan Finn, Will Schwarz, and Kevin Walker. Needless to say, there's a lot to soak in with this record and we hope you enjoy the early listen!
Eric Krewson started The Chairman Dances in the fall of 2010. For five years the band quietly made albums – about one a year – and performed them in basements and bars as far from their homes in Philadelphia as the price of gasoline would allow and as often as they were beckoned. In 2016 their album Time Without Measure broke through and gained critical notice. Magnet magazine and our publication wrote glowing reviews; the record made it onto CMJ's Top 200 chart, as well as across the Atlantic, on the BBC's Tom Robinson show. In a few months, they were opening for the Old 97s' Rhett Miller.
Krewson has spend this past year and a half honing his writing and composing new music. Every piece of every new composition had the freedom of changing into something better, and it often did. The band added a second keyboardist, which changed their sound dramatically, as did many guests musicians (including Mike "Slo-Mo" Brenner of Magnolia Electric Company) who signed on to be part of a new album.
After recording the majority of Child of My Sorrow, the band continued to sonically experiment; recorded drum tracks were sent through a synthesizer to be manipulated; guest string players Ezgi and Maddie were asked to repeatedly strike their priceless instruments with the wood of their bows to get a percussive-sounding note. With the help of chairman-dancers Luke Pigott and Ashley Hartman, the group took the album on the road, recording overdubs in Philadelphia, Chattanooga, and Galicia, Spain.
Of the album and its release, Krewson says, "I had a difficult time choosing a title for the last song on our album. I filled pages over days and weeks, I conferred with friends. Finally, the title – for both the song and, ultimately, the album – arrived, and it came very naturally. Whence I do not know."
-"The album itself had a similar genesis. Songs I wrote were brought to the band and to friends. Many songs, after consideration, were put aside. When a track list came into view, we tried out different arrangements, listening for what was inherent in or to the compositions and the parts we were writing."_
"I'm proud of every record by The Chairman Dances, but I'm most proud of Child of My Sorrow, and I think that's in part because of that tension between great effort and effortlessness that was pervasive throughout the process. The other day, a journalist, who first saw us perform many years ago, asked the group what recorded tracks we considered our best. For me, the answer is this album."
"It seems appropriate here to credit everyone who had a hand in shaping the work. Those musicians and great thinkers are: Dan Comly, Dan Finn, Will Schwarz, Kevin Walker, Ashley Hartman, Luke Pigott, Maria Mirenzi, Andrew Pereira, Sara Macro Forrest, Tom Howley, Ezgi Yargici, Madeline Bell, Mike "Slo-Mo" Brenner, and Daniel Smith. Additionally, my wife Natalie and friends Rich, Mike, Dan, and Mark provided invaluable, much needed feedback."
comments powered by