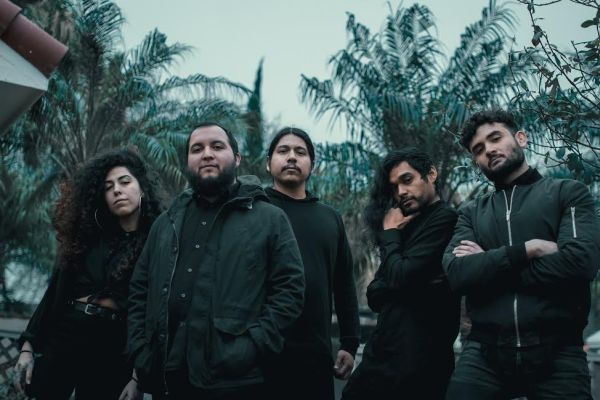 24 May 2018
Dezorah; Photo Credit: Virgil Pena
Dezorah is a post-progressive band from McAllen, Texas who are set to release their Creando Azul EP this Friday. The band's sound features aggressive drums and distorted guitars topped by the intense, Bjork-like vocal delivery of frontwoman Danica Salazar.
Formed in 2014 by guitarist Eric Martinez and Salazar, the duo joined forces shortly after with drummer Trey Puga, bassist Daven Martinez, and guitarist Jonathan Garza to released their first EP in 2016 titled Tierra Eterna.
In the ensuing years, Dezorah's musical style has evolved to feature hard-charging drums and bass, noisy and melodic guitars, and a blend of gloomy and emotive vocal melodies that reflect high energy and deeply buried anxiety.
These elements and more are explored in the band's upcoming second release, Creando Azul. The five-song EP was produced and mixed by audio engineer Alex Bhore at Elmwood Studio in Dallas, Texas and mastered by mastering engineer Sarah Register in New York, New York.
Danica Salazar comments, "Creando Azul represents the process of healing. Each song's lyrics holds a moment in the journey of acknowledging pain and beginning to purge from those emotions." Balancing light and dark, fiery and restless rhythms with quieter, reflective lulls, aggressive noise and gentle melody, earthy drama and ethereal beauty, Creando Azul is an intense journey and one well worth taking.
The release of Creando Azul will be followed by extensive touring, both regionally and nationally. See Tour Dates below.
TOUR DATES
5.25 – Mcallen, TX at Yerberia Cultura (Album Release Show)
5.26 – Laredo, TX at Electric Boogaloo
5.31 – San Antonio,TX at Ventura
6.01 – Austin, TX at Swan Dive
6.02 – Dallas, TX at Armoury D.E.
6.03 – Houston, TX at Satellite
6.04 – San Marcos, TX at Kiva
6.06 – Denton, TX at Dan's Silverleaf
6.07 – Bryan, TX at Revolution
6.08 – San Angelo, TX at Deadhorse
6.09 – Arlington, TX at Division Brewery
6.10 – Lafayette, LA at The Platform
6.11 – Baton Rouge, LA at 524 Studios
6.12 – New Orleans, LA at Hiho Lounge
6.14 – Huntsville, AL at Copper Top
6.15 – Marietta, GA at Swayzes
6.16 – Athens, GA at Terrapin Beer Co.
6.18 – Augusta, GA at Soul Bar
6.19 – Athens, GA at Go Bar
6.20 – Savannah, GA at El Rocko
6.22 – Tallahassee, FL at The Wolf's Den
6.23 – Jacksonville, FL at The Bughouse
6.24 – Glen Saint Mary, FL – Planet Sarbez
6.25 – Fort Lauderdale, FL at Two&
6.27 – Gainesville, FL at Loosey's
6.28 – Hattiesburg, MA at The Thirsty Hippo
6.29 – Ocean Springs, MS at Crooked Letter Brewing
7.05 – Champaign, IL at Audiofeed Festival
7.06 – Champaign, IL at Audiofeed Festival
7.07 – Moline, IL at Beirstube
7.10 – Hamtramck, MI at Kelly's Bar
7.11 – Albany, NY at Pauly's
7.12 – Brooklyn, NY at Gold Sounds
7.13 – Richmond, VA at Hardywood Park Craft Brewery
7.14 – Harrisburg, PA at Little Amps
7.15 – Washington, DC at Velvet Lounge
7.24 – North Kansas City, MO at The Rino
7.25 – Wichita, KS at Kirby's
Facebook
Twitter
Instagram
YouTube
Bandcamp
comments powered by