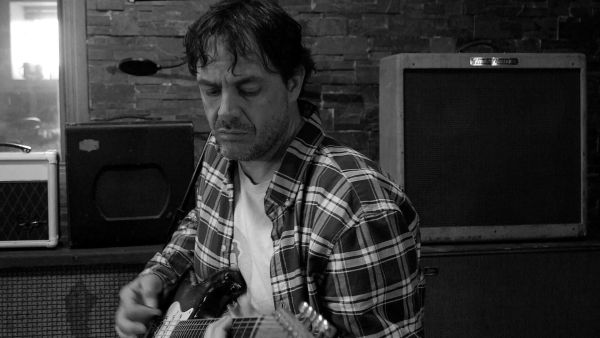 9 November 2017
Area Resident; Photo Credit: Matt Lemay
Area Resident is the musical moniker of Doug Hempstead, an Ottawa, Canada-based multi-instrumentalist. The name draws on his more than two decades as a print and broadcast journalist. In fact, the music is made between the split shifts he works as a traffic reporter for CBC radio.
Area Resident has two full-length albums — a critically-acclaimed self-titled debut CD in the fall of 2016 and second LP, titled Delano, due on November 10th.
Hempstead works closely with life-long pal Jordon Zadorozny of Blinker The Star, who acts as producer, collaborator, and musician on the Area Resident recordings. As a live act, Hempstead serves as a lead vocalist drummer and performs with guitarists John Higney (The Flaps, Two Minute Miracles) and Paul Jensen, as well as fellow CBC journalist Kristy Nease on bass.
Many songs on Delano draw from Hempstead's experiences as a journalist for more than two decades — stories he's covered, murders, runaway wallabies, a man who smuggled gold out of the Mint in his bum, etc…. The album gets its name from Roosevelt, who is not only Hempstead's favorite president… they had some good ones, but isn't that just the best middle name ever?
Delano, which The Big Takeover premieres in full here, is an album brimming with atmosphere. Colors of indie-rock, country, fuzzed-out space jams, funk grooves, and classic songwriting sit side by side. Not only does the album genre-hop, it does so effortlessly. Never feeling forced, but always coming from the same place, from the same mind. Time to take a stylistically varied trip with Delano!
Hempstead took some time to detail the meanings and backgrounds of the songs off Delano:
1. "RIVERSIDE": "This song was the last one recorded, after I determined there really wasn't a stand out single on the record, like Threshold was on the last album. Riverside is about where I grew up — on the Ottawa River outside Pembroke, Ontario. Written on the guitar."
2. "PRAY FOR WENDELL": "This song was written around a drum intro to a song by The Move, played instead by Jordon Zadorozny. The song is about a story I covered in 2008 when a tree fell on an animal enclosure and Wendell, a wallaby, escaped. He didn't survive his ordeal."
3. "TWO HOURS TO GO": "Was written for my wife, about 10 years ago, when she was finding it hard getting through a boring shift as a news reader at a county & western radio station. The sublime guitars are played by the incomparable John Higney — a member of the live version of Area Resident."
4. "SHOW NO ONE": "There used to be a secret alleyway bookstore in downtown Pembroke where I bought comic books. It didn't seem to belong in my hometown. Neither did the owner, neither did most of us who shopped there. This tune was written on a baritone guitar which I borrowed."
5. "DELANO": "The title track isn't about Roosevelt, it was written after reconnecting with an old high school friend who is a forager and as at home in the outdoors as anywhere else. It's also about my loathing of crime journalism and the need for door-knocking on the homes of dead people's families."
6. "LANARK DOUBLE SOAKER": "When I was crowdfunding for my first record, a workmate said he'd make a donation if I could write a song about an police press release he'd found about a young couple who got busted after breaking into a Mississippi Mills cottage and fleeing in their pick-up truck. They crashed the truck into the river and sat in it for 20 hours until police found them. The slide bits are done using my e-cigarette,"
7. "WARM IT UP FIRST": "This song is straight-up about a Canadian Mint employee in Ottawa who got busted smuggling gold pucks out of the building in his bum."
8. "MACDONALD PARK": "I'm a traffic reporter on the radio. The lyrics of this song are what you get when you put one of my traffic reports into a audio-to-text generator. And then write a DEVO -esque bridge."
9. "EIGHT TRACK MIND": "An older song from the Two Hours To Go era. It was written during a time when I was fighting for my marriage. I had an old Fostex MR-8 multi-track recorder which I used to do song back then. I spent a lot of time in the basement. So much so that my wife suggested I had an eight track mind. Guitar on this is by Paul Jensen who performs in the live version of Area Resident."
10. "LIVING LIKE I'M GOING AWAY": "I wrote this after listening to a free MOJO Magazine reggae CD and lots of Curtis Mayfield. It's about a story I covered. A young man killed his adoptive mother and went on the lam with his girlfriend. This was written before police tracked them down. The Sad Barretty guitar in the middle is performed by Miche Jette (aka Flecton Big Sky). This was the first song recorded for the album."
comments powered by